Back on the farm today. Amazing and practical solutions to feed the world.
Advances in medicine and agriculture have saved vastly more lives than have been lost in all the wars in history. – Carl Sagan
Today's itinerary:
Lots happening in the world of Agtech, from crop spraying drones to new way to use cow-created methane for good.

Kansas town seeks development to support growing workforce.

A St. Louis clothing startup has landed $17.3 million in investment capital.

Louisville and the sports analytics biz.

Name that Flyover City!

January 10, 2020
Iowa startup offers drone technology for crop management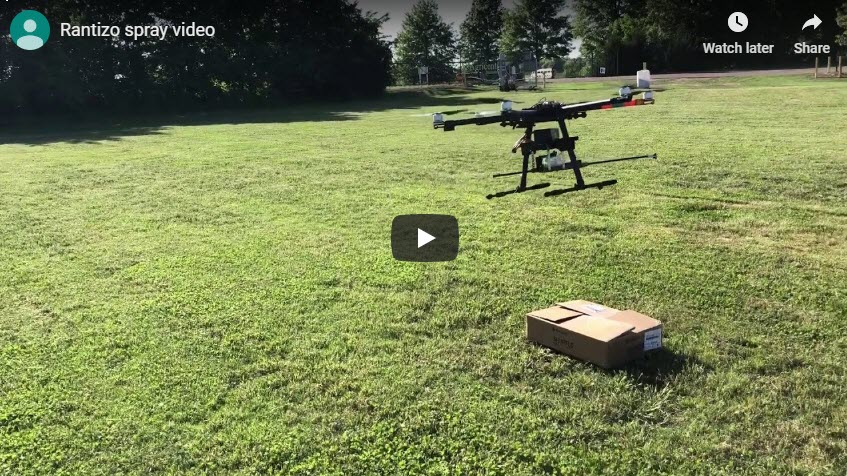 A scrappy agtech startup in Iowa City called Rantizo is dead set on revolutionizing the way farmers spray their crops, and they're doing it with drones. Lots of them. Greek for "to sprinkle," Rantizo has spent the last few years in its modest downtown Iowa City headquarters retrofitting and modifying drones with autonomous herbicide-, fungicide-, and pesticide-spraying functionality currently capable of covering anywhere between 5 and 14 acres of crop land per hour.
The first company in the nation to be granted licenses for commercial drone spraying, Rantizo started in Iowa and Wisconsin, quickly expanding to eight other states, with more—including California—on the horizon. Co-founder and CEO Michael Ott is bullish on Rantizo's future prospects. By implementing several drones at once in a swarm-like fashion, he hopes to eventually ramp up coverage to 60 or even 100 acres per hour, competing with conventional ground rigs while spraying a fraction of the chemicals typically needed to be effective. Other benefits include reducing diesel fuel costs and eliminating soil compaction caused by heavy duty farm equipment.
Since deploying units for commercial use last summer, Rantizo has been inundated with interest. Ott told Progressive Farmer, "When people see it, they say it makes sense and 'I want that.' People keep calling. My phone rang three times in the last 15 minutes. We can't keep up."
Indoor farming service is taking off in Virginia
Alexander Olesen and Graham Smith were students at the University of Virginia when they began researching hydroponics as a possible way to grow food in refugee camps. Using big commercial operations as a model, they figured out how to reduce the farming space required for crop production—which led to the launch of Babylon Micro-Farms.
Babylon manufactures vertical farming units scaled for businesses, providing seed kits by subscription and managing the units remotely—things like airflow, irrigation, lighting, fertilizers, and pH levels. (Thank you, IoT.) The customers don't need any gardening know-how; they just lease the units and Babylon does all the rest.
The company secured a $600,000 pre-seed round in 2018 and recently closed a $2.4 million seed round from several investors, including CIT GAP Funds and Plug and Play Ventures. On top of that, Babylon received a grant from the National Science Foundation to further its research.
Although the company launched in Charlottesville, it is working to expand into Richmond. And while Babylon hopes to develop units that are suitable for individual households, for now its clients are larger, such as restaurants, food service firms, and even the UVA dining hall.
Image courtesy PublicDomainPictures.net CC0 Public Domain
You know how they say methane from cows is contributing to climate change? Maybe that's a feature, not a bug. Thanks to breakthroughs in recent years, it's now financially feasible to convert methane into natural gas. That means a potent greenhouse gas can be converted into renewable energy.

Two companies, Dominion Energy and Vanguard Renewables, are teaming up to capture methane from dairy farms and convert it into natural gas that can be used to power homes, businesses, and vehicles. The $200 million project will launch in Georgia, Nevada, Colorado, New Mexico, and Utah, before eventually expanding to the entire nation. According to Vanguard Renewables, the projected reduction in greenhouse gasses is equivalent to removing 100,000 cars from the nation's highways. The venture will also provide a new source of revenue for dairy farmers.
Oh, and don't worry about how the companies are going to attach tubes to cattle's mouths and nether regions to capture their burps and farts. The procedure actually involves the incineration of stored stockpiles of manure.
Kansas town seeks development to support growing workforce
Edgerton, KS—a farm community that's part of the Greater Kansas City metro area—has a population of roughly 1,700. But its Logistics Park Kansas City (a sprawling hub of distribution centers and warehouses) has attracted a workforce of roughly 4,500 people. The park created an enviable number of jobs (and brought the area $1.1 billion in private investment from the likes of Amazon, UPS, and Hostess), but the park grew so fast, the town couldn't develop the amenities to support all those workers. Like someplace to grab a bite on a 30-minute lunch break. And shops, hotels, and housing.
To address the shortcomings and attract commercial development, Edgerton's city council recently approved two tax-increment financing (TIF) redevelopment districts—a way to entice developers via tax incentives.
Local officials are hoping this will spur enough commercial development to provide the amenities workers need. On the horizon: a TravelCenters of America TA Express, a proposed $35 million development that will include a hotel and several restaurants, and a 144-unit apartment complex. Many other proposals are in the works as well.
St. Louis-based clothing line raises $17.3 million
Summersalt, a St. Louis clothing manufacturer, has landed a $17.3 million venture capital investment. Summersalt got its start as a swimwear company, selling directly to consumers. The company's founders are former Washington University design professor Lori Coulter and marketing consultant Reshma Chattaram Chamberlin.

Thanks to a previous investment from Steve Case's Revolution fund, Founders Fund, Lewis and Clark Ventures, and Victress Capital, Summersalt has expanded from swimwear into travel wear, including cashmere sets, packable jackets, and wrinkle-free pants. The new investment comes from Utah-based Mercato Partners. The company will use the investment to build a "generation-defining" travel brand that creates "a community of curious women who love to explore."
Louisville and the sports analytics biz
Louisville-based data science firm EdjSports is in the sports analytics business. The company, a subsidiary of EdjAnalytics, has developed a predictive model that uses big data to help coaches and teams make the best decisions on and off the field. The company gained notoriety from a New York Times article highlighting EdjSports' work with the 2018 Super Bowl-winning Philadelphia Eagles.
Following its success with the NFL, EdjSports expanded into high school and college football, as well as the consumer market—including the sports betting industry. And the smart money is on MORE money: $5M, to be specific. According to Louisville Business First, "EdjSports is offering a total of $5 million in this round of fundraising with about $2.3 million already sold."
The company has some big aspirations for the coming year, too. CEO Sean O'Leary said they want their sports focus to go beyond football. "We're going to have a product out that will appear in Q1 [2020] for NBA and college basketball—we intend to have some really exciting stuff for March Madness this year."

It's ... Name that Flyover city!
Useless information that is strangely fascinating.
While the oil industry has historically dominated its economy, this city is also a major player in the aerospace industry.

This city is home to a famous, full-scale reproduction of Athens' Parthenon.

This city boasts a Cultural Trail, an urban mixed-use trail and linear park.

Click here for today's answers
Please click the button below to share stories and offer suggestions or comments