Cleveland Innovation | A top city for tech workers | Why Duo calls Ann Arbor home
"What we've done to encourage innovation is make it ordinary." — Procter & Gamble CIO Craig Wynett

Today's itinerary:
A new innovation district in Cleveland


Podcast: Are you using the right data?

Cortex recognized for innovation

Milwaukee's tech opportunities

Ann Arbor startup stays put after $2.35B acquisition

Moving tech forward in Omaha




Accessing sensitive data

Fueling the Future

Name that Flyover City!
February 4, 2021
Cleveland invests big in innovation district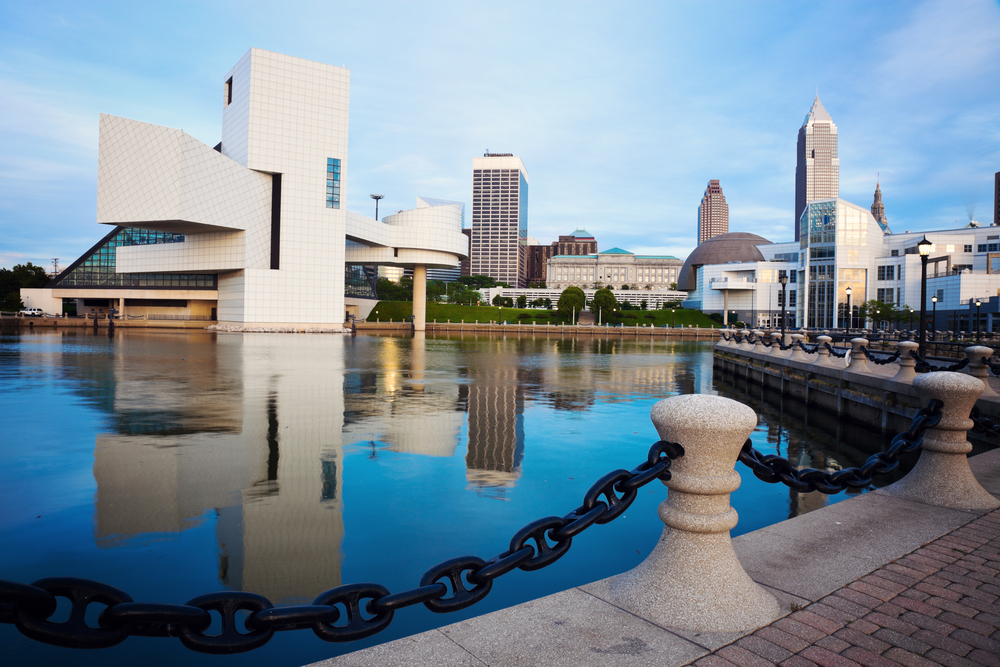 Image by Henryk Sadura for Shutterstock
Ohio Governor Mike DeWine and Lt. Governor Jon Husted have unveiled The Cleveland Innovation District, a center of excellence that will be a catalyst for ongoing investment in Northeast Ohio. Partners include Cleveland Clinic, University Hospitals, The MetroHealth System, Case Western Reserve University and Cleveland State University.
The State of Ohio, through DSA, and JobsOhio, and Cleveland Clinic, will commit a combined $565 million to the Cleveland Innovation District. A good portion of the money will be put towards the creation of the Cleveland Clinic's new Global Center for Pathogen Research & Human Health.
Cleveland Clinic's CEO and president Tom Mihaljevic, MD, said, "This historic investment will position Cleveland Clinic's Global Center for Pathogen Research & Human Health to alter the course of human welfare. The world has experienced the destruction triggered by pathogens, we will be part of the solution."
Economic impact
The Cleveland Innovation District's goal is to bring 20,000 new jobs to Northeast Ohio over 10 years, including 10,000 direct jobs in the healthcare and IT sectors, as well as 10,000 indirect jobs. The economic impact of the Innovation District is expected to be $3 billion for Cleveland and Ohio.
"The Cleveland Innovation District creates partnerships across different sectors of the economy and positions Ohio as a competitive place to invest in," said Governor Mike DeWine in a statement. "Each of the Cleveland Innovation District partners bring unique skills and areas of expertise. Having these institutions partner together will help Ohio emerge as a leader in healthcare and IT nationally and globally."
"This is another example of how our collaborative efforts position Cleveland's economy for the future."
— Frank G. Jackson, Cleveland Mayor
The partners
Case Western Reserve's Next Generation Health Care initiative will build on the university's biomedical technologies and drug development to advance diagnosis and treatment for cancer, cardiac, neurological, and infectious diseases.
The MetroHealth System will further expand its expertise in population health, medical informatics, epidemiology and modeling to support early detection, and monitoring of disease spread within communities.
University Hospitals will leverage current research and partnerships in the Cleveland Innovation District to identify and attract technology and process innovation for pharmaceutical development generated in Northeast Ohio. Specifically, University Hospitals will lead efforts to advance medical research and product innovation.
Cleveland State University (CSU) will invest in education and talent development to increase the number of higher education degrees, adult learning opportunities, and virtual educational programming opportunities in key STEM fields.
Cleveland Mayor Frank G. Jackson said that the announcement is "another example of how our collaborative efforts position Cleveland's economy for the future," said Mayor Frank G. Jackson. "We look forward to future collaboration with these partners to bring more jobs and innovation to the Cleveland Innovation District and Opportunity Corridor."
Are you using the right data?
Enable.Ai's CEO Brian Dennett has parsed data for companies selling everything from toothpaste to snowboards during his career, but now he focuses on helping marketers and ad agencies unlock the "magical thinking" of data leveraging. Hear him talk "death to promoter score," the importance of risk management in tech decisions, and what bands he likes to listen to while deep inside the data.
Dennett joins our host and partner Ben Reno-Weber from Microsoft's Future of Work Imitative for our final episode of Flyover Future's Innovators podcast inaugural season. Catch up all 12 episodes here.
Cortex recognized for innovation
Cortex Innovation Community, a 200-acre innovation hub in St. Louis, has been named the global best practice for "Organizing for Success" by the Global Institute on Innovation Districts (GIID). The recognition acknowledges Cortex's 20-year history of generating regional innovation and economic growth.
Milwaukee a top city for tech workers
When Ann Arbor is your home

UNeTech helps tech entrepreneurs through the 'valley of death'
There's a gap between the time a new technology is discovered and when it becomes commercially available. UNeTech, a grant-funded business development entity at the University of Nebraska at Omaha provides the support and infrastructure needed to get high-risk, high-reward tech to market.
What is fueling Flyover Country innovation? In this weekly feature, we share a variety of announcements covering funding, acquisitions, exits, grants, and everything in between. Got something to celebrate? Click here to share your story.
It's time for our favorite trivia game!
Here are this week's questions:
What city did the Dundee explosion happen in?

In what city would you find the world's only underground zip line attraction?

In what city did an event occur that ended college varsity boxing in 1960?
Click here for today's answers.
Share stories, offer suggestions, or send comments!