Discover "4 Lakes City", a strong startup culture – November 20, 2019
"Mad City" is really a very happy place!
Today's itinerary:

Also known as "77 square miles surrounded by reality", Madison, WI is home to amazing innovation and entrepreneurship.

Young founders from from Washington U are driving revitalization in downtown St. Louis.

Pitt students host weekend brainstorming session for healthcare solutions.

Kansas City's Yotabites hits exit five years early.

Name that Flyover City!


November 20, 2019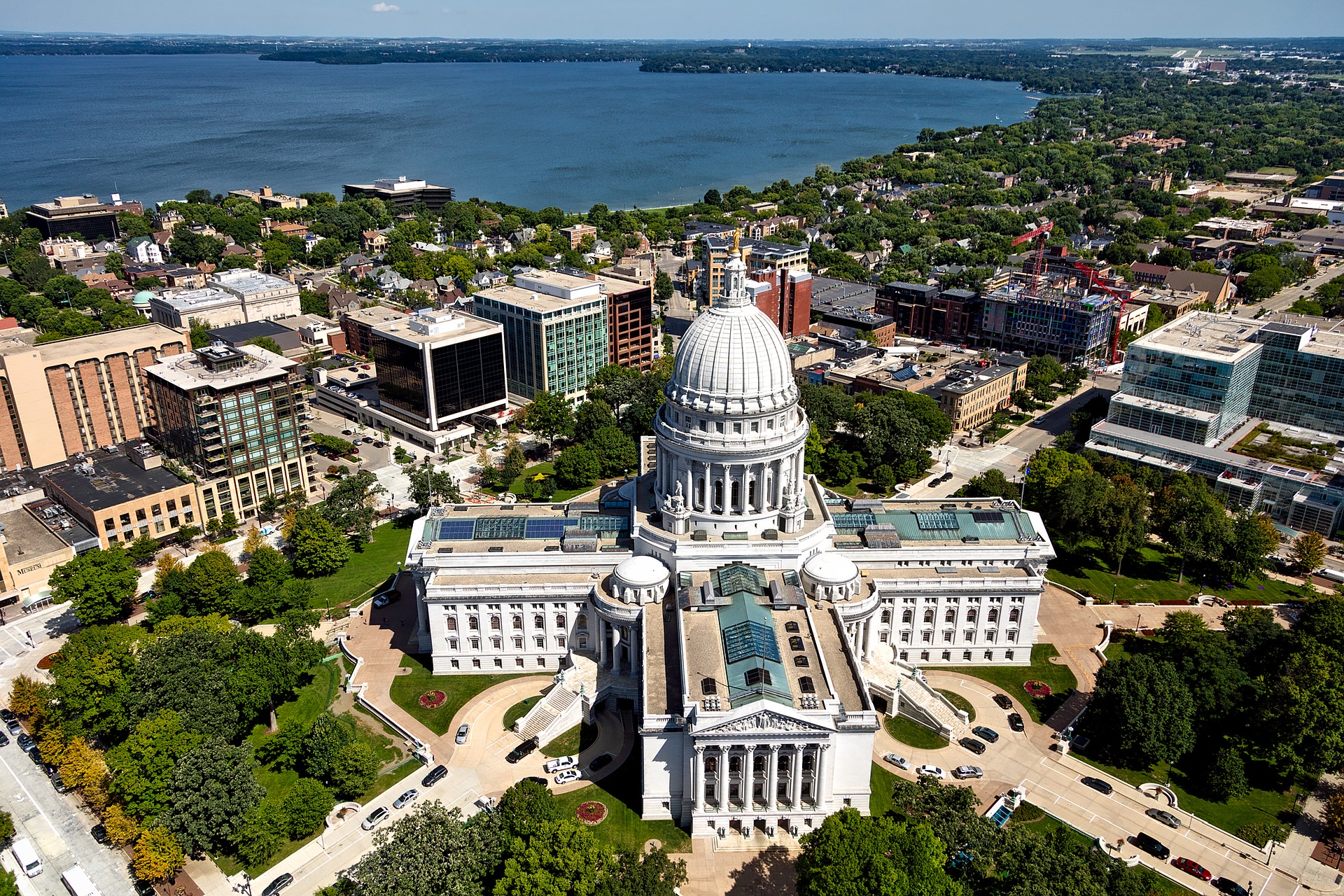 Image by David Mark from Pixabay
When it comes to innovation and entrepreneurial opportunities, AOL founder and cofounder of investment firm Revolution, Steve Case says that "Madison punches above its weight class." And given the recognition Madison has been receiving, that's a pretty apt assessment.
For instance:
So what is fueling this entrepreneurial momentum?
Badgers, investors, and business-friendly support

A good place to start is with the University of Wisconsin-Madison. The UW-Madison is ranked sixth in the nation for its volume and breadth of research--everything from aquatic sciences to molecular virology to particle astrophysics.
The school's research base is bolstered by an affiliate, University Research Park (URP). URP "supports early-stage and growth-oriented businesses in a range of sectors."
Another boost for entrepreneurs comes from StartingBlock, a 50,000-square-foot hub that encompasses, among many initiatives, a social impact program, internships with early- to mid-stage startups, speakers, pitch competitions, and mentoring.
Quality of life

We've barely scratched the surface of Madison's robust entrepreneurial support systems, but you get the idea. We'd be remiss if we didn't save a little room to touch on some of the other great things about the city. WalletHub ranked Madison third on its list of the Happiest Cities in America. Here are some reasons why.
Food! Madison is a foodie paradise, with trendy restaurants, award-winning chefs, food coops, breweries, cocktail bars, and festivals that celebrate locally grown food. And it hosts the largest "producer-only" farmer's market in the country.
Also, the town and its environs are dang pretty. Five major lakes, parks, miles of trails, and abundant green spaces provide a spectacular backdrop, as well as offering myriad recreational options.
Then there's the city's architecture—perhaps most notably, the Wisconsin State Capitol, which is the second tallest in the US, along with two buildings designed by Frank Lloyd Wright and numerous properties on the National Register of Historic Places.
There's no shortage of cultural activities and attractions, either. Galleries and museums, performance arts, and live music are plentiful.
Add to all this a strong job market, a reasonable cost of living, sports teams to root for, and oh yeah—the fact that Madison is built on an isthmus—and you've got some compelling reasons to check out this city. And its isthmus.
Madison data from the flight deck


Population (City): 258,054

Population (MSA): 654,230

Female: 50.6%

Male: 49.4%

Median age: 35.9

Median household income: $61,284

Median home value: $256,600

Median rent price: $1,699

Cost of living index: 109.5

Unemployment rate: 2.3%

Data Sources: Zillow; US Census Bureau; City-Data; Bureau of Labor Statistics; BestPlaces
Washington U driving entrepreneurship in St. Louis
Google Maps/Airbus, First Base Solutions, Maxar Technologies, Sandborn U.S. Geological Survey, USDA Farm Service Agency
At the heart of every startup ecosystem lies a university. Think Stanford. Think MIT. Well, you can add Washington University to that list. The school's entrepreneurial influence is evident all over St. Louis. Like downtown co-working space and tech incubator T-REX, which has partnered with local schools, including Washington University. The space is "home to a growing community of well over 400 founders, developers, designers, mentors, educators, and more."
Cliff Holekamp, an angel investor who created an entrepreneurship curriculum at Washington University's Olin School of Business, says that young founders are energizing the area. "The entrepreneurs have really been the anchor for the revitalization of downtown."
"St. Louis is big enough to matter," Holekamp said. "It's big enough to have resources, to have networks, to have capital, to build entrepreneurship communities. But it's small enough that you can access it. And in St. Louis, all you need to do to make a connection with anyone in this town is say, I'm a WashU student."
Healthcare hackathon generates healthcare solutions at Pitt
More than 100 University of Pittsburgh students, along with additional students from Carnegie Mellon University, recently spent a weekend brainstorming solutions to healthcare problems at the second annual BlueHack event.
Representatives from IBM and AmerisourceBergen offered guidance to the students as they developed their ideas. At the end of the weekend, the students pitched the products and services they'd come up with—and some of them won prizes.
The first-place team devised a mobile app that translates sign language to text and vice versa. Second prize went to a team that pitched a concierge service to help relocated employees find doctors and other healthcare providers. Two third-place and two fourth-place prizes were awarded as well.
Pitt junior Jiachen Tian was on the first-place team. "The valuable part is being able to gather together and come up with a brilliant idea, and also being able to stand in front of a large group of people to pitch the idea," he said.
His teammate David Ayodele had a slightly different takeaway. "Overall it was quite a bit of work, but a great experience. The most valuable part for me was getting to explore the product development cycle and see how people in industry think."
Big Data startup Yotabites hits exit 5 years early
Can someone be pro karma and also a ninja? The world is about to find out. ProKarma, a global digital services company, has acquired Yotabites, a Kansas City-based big data firm that bills itself as "big data ninjas." The acquisition, for an undisclosed sum, comes five years ahead of Yotabites' founders' projected 2025 exit date.

ProKarma obviously liked what it saw in Yotabites, a young firm with a similar customer base of large companies trying to make sense of all their data. By acquiring the "big data ninjas," ProKarma picks up data expertise to complement its other digital services, and Yotabites gains the benefits of being part of a much larger company and its suite of other professional services.
Illinois insurance technology firm lands Series B funding
DataCubes, an insurtech startup based in Schaumburg, IL, has announced the close of a $15.2 million Series B funding round led by Palm Drive Capital. The funding will be leveraged to expand the company's workforce, support its R&D efforts, and drive adoption of its AI-driven underwriting decision platform.
Minnesota fire safety company acquires Oklahoma firm
A-1 National Fire Company, a subsidiary of St. Paul-based Summit Companies, has acquired Mac Systems. Both companies offer fire and life safety systems. The purchase is billed as a "strategic expansion" into Oklahoma, where Mac Systems is based. Financial terms haven't been disclosed.
Columbus, OH-based Loop raises $10 million in Series A funding
Ecommerce platform Loop, which helps brands manage online returns and exchanges, has raised $10 million in a Series A round led by FirstMark Capital. Lerer Hippeau and Ridge Ventures also participated in the funding.
Food on demand: Chicago startup closes out its seed round
Techstars graduate 2ndKitchen, which helps businesses without kitchen facilities provide their customers with food delivery, has raised $3 million, closing out its seed round at $4.35 million. Led by Hyde Park Venture Partners, this latest funding will enable the company to expand across the US and sell to additional venues.
It's ... Name that Flyover city!
Useless information that is strangely fascinating.
Southerners say "ya'll." Philadelphians say "yous guys." Natives of this city say "yinz." What city are we talking about?

Halsey Hall was born in this city and went on to be a sports reporter and announcer. He was the first to use the term "Holy cow!" as a home run call.

The name given to a rivalry between two schools in this city is called The Bedlam Series.
Click here for today's answers
Please click the button below to share stories and offer suggestions or comments