Give us any chance we'll take it, read us any rule we'll break it – December 18, 2019
We're going to make our dreams come true, doing it our way
Today's itinerary:

We land in Milwaukee, WI--a city (known for its beer and Harley Davidson museum) that gets things done.

A new device that helps restore mobility to people with upper-limb conditions.

A Pittsburgh company works with the DOD to develop a way to protect against chemical warfare illness.

Company develops rapid sterility test. But it's not what you think.

Name that Flyover City!
December 18, 2019
WHEELS DOWN: MILWAUKEE, WI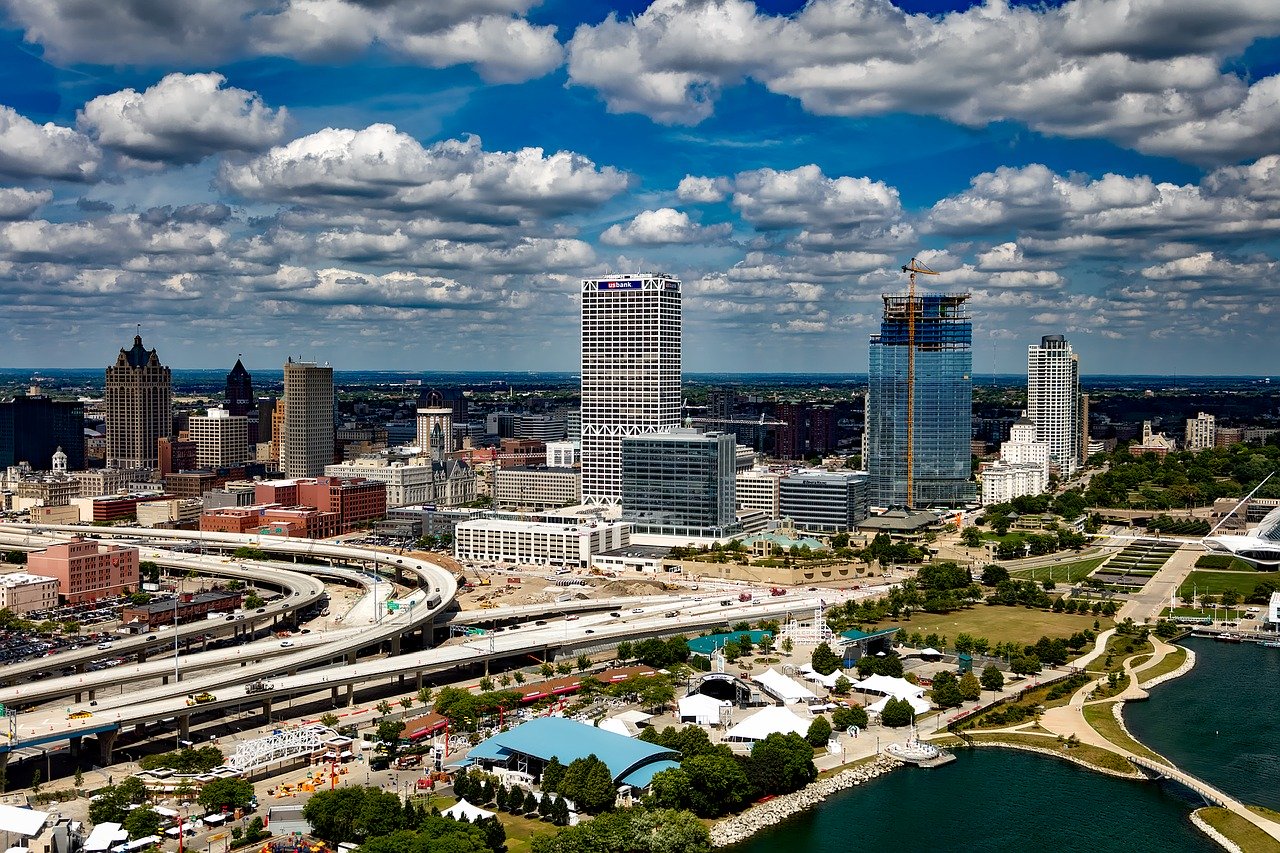 Image by David Mark from Pixabay
Milwaukee has a reputation as a city where people work hard. With its big-time breweries, precision manufacturing shops, medical and biotech firms, and financial services companies, Milwaukee is a town that gets things done. Now, work of a different sort is paying off.
The bid
Officials and local organizers spent months lobbying to win a bid to host the Democratic National Convention in 2020. And last March, the Democratic National Committee announced that it had indeed chosen Milwaukee as its venue. The competition was tough but Milwaukee prevailed, beating out the other finalists, Houston and Miami. (Score another one for the heartland!)
Analysts point to the fact that Wisconsin will be a battleground state in the 2020 presidential race, and choosing Milwaukee to host the convention is a politically strategic move. However, other decision factors certainly came into play as well. Like the fact that Milwaukee organizers raised $10M and demonstrated that the city has sufficient infrastructure to handle the 50,000 visitors the convention is expected to draw.
Another key driver in winning the bid was the convention site, Fiserv Forum, a nearly new $524 million multipurpose arena in downtown Milwaukee. The sports and entertainment hub is home to the Milwaukee Bucks, and it features all the state-of-the-art technology and smart building features that today's ticket holders have come to expect—and that convention attendees will require.
The impact
Playing host to the convention will obviously have a huge impact on the area. First, there's the image boost. "Milwaukee is a first-class city," Mayor Tom Barrett said, "and we are ready to showcase Milwaukee on one of the largest stages in the world." Then there's the money. The four-day convention in July is expected to have an estimated $200 million impact on the region. And much of the investment that's going into development and infrastructure improvements in advance of the convention should benefit the city for years to come.
The revitalization
Years before Milwaukee secured the bid for the convention, it was pouring money into development, redevelopment, business growth, and property upgrades. By one estimate, $2.9 billion has been spent on development since 2010. The building boom has even transformed the city skyline, thanks to new constructions like the 32-story Northwestern Mutual Tower, the 7Seventy7 apartment high rise, and the BMO Tower, scheduled to be completed next spring.
There have also been infrastructure advancements, such as The Milwaukee Streetcar, known as The Hop. The $128.1M project began offering service in November 2018, and passengers can ride for free through 2020. Plans are underway to expand its routes.
The entrepreneurship
Milwaukee's commissioner of development Rocky Marcoux thinks the influx of the Democratic National Convention visitors will give the city a chance to show off its entrepreneurial prowess and woo investors from the coasts. "It's not that people have a negative impression of Milwaukee; they have no impression of Milwaukee," he said. "I'll bet roughly 80 percent of the people who will come haven't been here before."
That exposure will be beneficial, but that's not to say that the city doesn't
already have its own local startup resources and VC support. For instance, Brew City Match, created with a $3.5 million three-year investment from JPMorgan Chase & Co., assists small business entrepreneurs looking to locate their company in Milwaukee's historical commercial corridors.
And then there's gener8or, which connects "startups, entrepreneurs, artists, investors, universities and corporations." The Technology Innovation Center at Research Park offers bioscience labs, light manufacturing, and office space (self-described as a "high-tech haven"). And Startup Milwaukee provides mentorship and capital to help founders launch and scale their high-growth business. Here's a list of events, resources, and support for aspiring entrepreneurs.
And, if you can't get that Laverne and Shirley song out of your head ...
"In the next 10 years, data science and software will do more for medicine than all of the biological sciences together."
– Vinod Khosla
Minneapolis' Abilitech Medical raises $7.4 million for mobility restoration device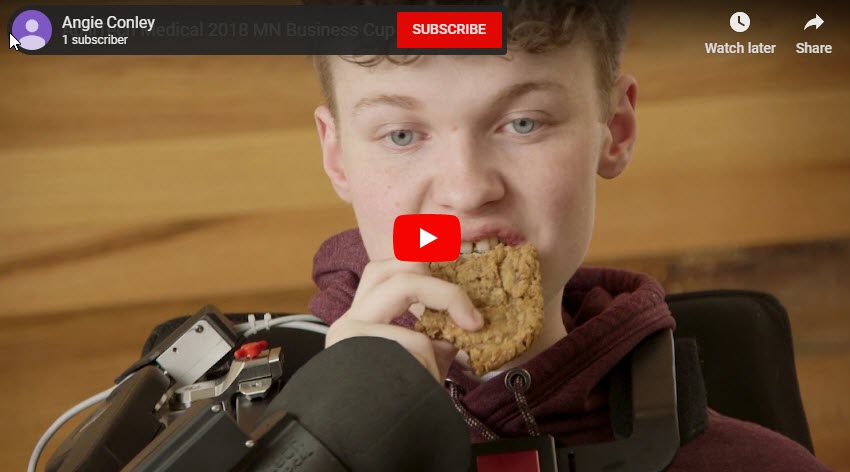 Image Via YouTube
Fresh off a clean sweep at the 2019 Minnesota Cup entrepreneurial competition, Minneapolis-based Abilitech Medical just raised $7.4 million in fresh funding to help push its groundbreaking mobility device, Assist, to the commercial market. The medical device company already claimed more than $100,000 in awards at the MN Cup before teaming up with Sofia Fund, an angel investment firm based in Minneapolis that's been successfully backing women-led startups for more than 20 years.
With Assist, both Abilitech and Sofia Fund see an industry game changer. The lightweight device "helps restore mobility to people with upper-limb and neuromuscular conditions" who otherwise require human assistance for even the most basic daily activities.
In the U.S., there are hundreds of thousands of people who can't perform simple tasks, such as feeding themselves or brushing their teeth because of arm limitations.
Abilitech CEO Angie Conley told MinneInno that the device "is a massive financial opportunity with the ability to have a physical, social and economic impact that will change many lives."
Abilitech expects FDA approval within the next year.
Protecting people from illness caused by chemical warfare
A Pittsburgh company has landed a $30 million contract with the Department of Defense to develop a way to protect people against illness caused by chemical warfare. The company, BioHybrid Solutions, uses technology originally developed at Carnegie Mellon University to create a "next-generation prophylactic medical countermeasure" called a "NanoArmored" drug. As part of the five-year deal, the company will work with the US Defense Threat Reduction Agency, the FDA, and the US Army to study the drug, scale manufacturing, and gain regulatory approval.

Previously, BioHybrid Solutions has created thousands of NanoArmored proteins for use in industrial and therapeutic applications but this is the company's first foray into national security applications. The technology promises to provide a leap forward in protection against the toxic effects of chemical warfare agents.
The brave new world of gene therapy
In the brave new world of gene therapy, there are advanced medicines that have a very short shelf life. Traditional tests to study the sterility of these medicines take as long as 14 days, which in many cases is too long. Now a North Carolina-based company has developed a rapid sterility test to shorten that testing period to just five days.

The company, Alcami Corporation, says its Milliflex Rapid System test uses something called adenosine triphosphate bioluminescence to detect microorganisms and identify them in only five days. The process also incorporates computer-generated results, eliminating the need for analyst observations (and observation bias). Rapid sterility testing can be a game changer for medicines used in gene and cell therapy, advanced therapy medicinal products (ATMPs), positron emission tomographic (PET) drugs, and compounded sterile preparations (CSPs) produced in a compounding pharmacy.
It's ... Name that Flyover city!
Useless information that is strangely fascinating.
In what city is the infamous Printer's Alley located?

In 1959 Berry Gordy Jr. developed a little outfit called Motown Records in this city.

In which city did the style of jazz music called Bebop originate?
Click here for today's answers
Please click the button below to share stories and offer suggestions or comments