It's a bright new year for Flyover cities – Here's Why! – January 1, 2020
2020: It's on!
Today's itinerary:

We land in Nashville, TN--a city known for music, its hospitality industry, and economic vitality. Then we look at the extraordinary entrepreneurial growth in other flyover cities.

Startup support in Louisville through Access Ventures

Arch Grants attracts startups in St. Louis.

Cincinnati's Main Street Ventures uses grant money to support emerging business.

Name that Flyover City!
January 1, 2020
WHEELS DOWN: NASHVILLE, TN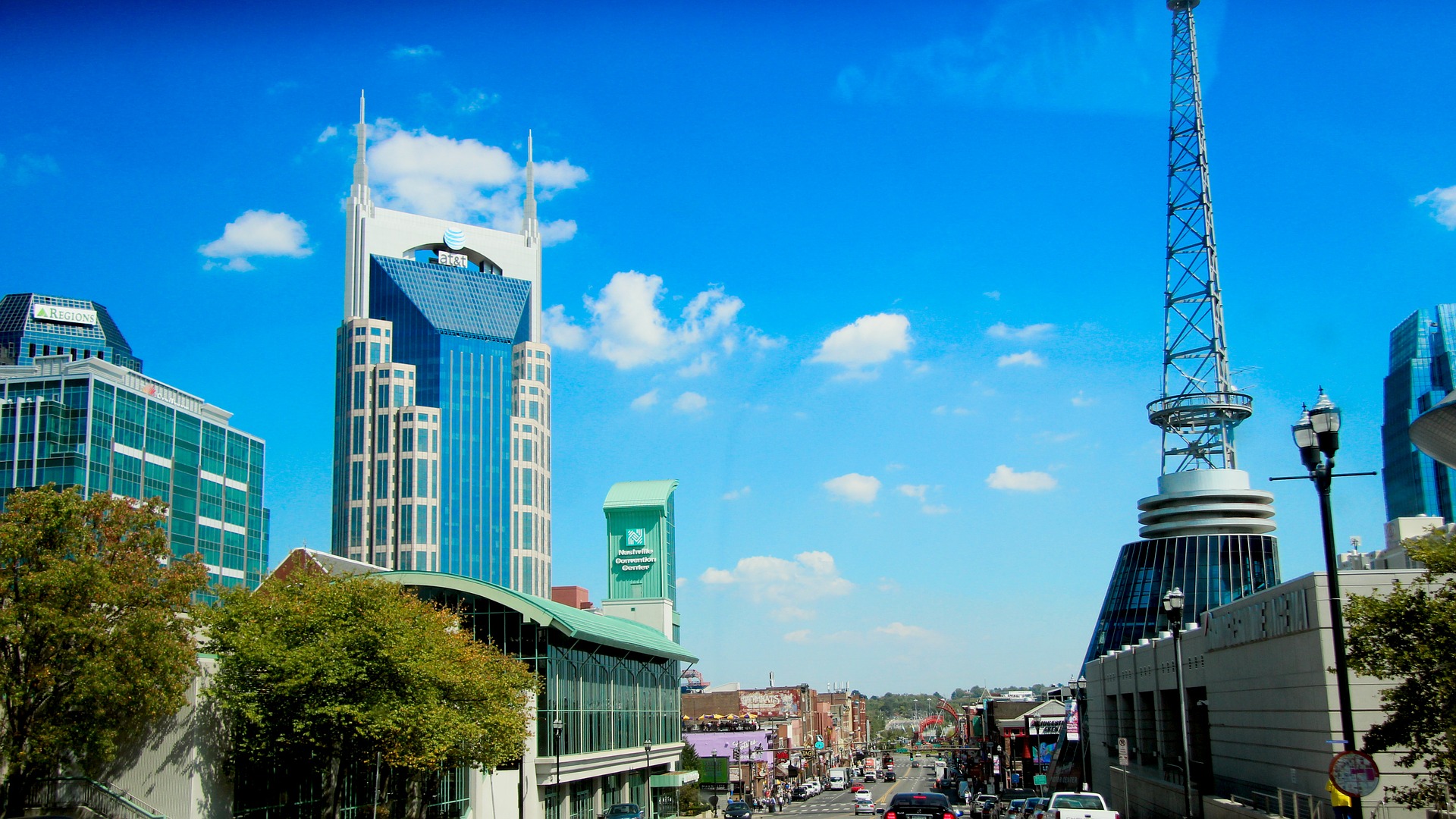 Image by Domingo Trejo from Pixabay
Whether it's catering to vacationers, conference attendees, prospective enterprises, or folks looking to put down roots, Nashville is a hospitality-driven, business-friendly city. It's long been a popular destination, but the numbers keep going up.
These days, Nashville hosts millions of visitors every year. In 2017, about 14.5 million people came to the city. In 2018, the tally reached 15.2 million—a 5% increase over the previous year. And while music has always been a big draw ("Music City," duh) and has a $10 billion economic impact on the town annually, Nashville has forged ahead with innovative businesses, high-tech initiatives, and dynamic economic growth.
Big (BIG) plans
For proof, look no further than Nashville Yards, an ambitious development located downtown. Actually, ambitious doesn't begin to cover it. Nashville Yards is a $1 billion project that encompasses 15 acres (or 17, depending on who you listen to). And according to the lead developer Southwest Value Partners, it will include more than 3.5 million square feet of class A office space, 1,000 residential units, 400,000 square feet of retail and entertainment space, and 1,100 hotel rooms. It will also feature a 4,000-capacity concert venue, a 24-story Grand Hyatt hotel, a 1.3-acre public park, and Amazon's 5,000-person operations hub, Operations Center of Excellence (which some residents have joked should be called HQ3).
Phase one of the project is construction of the Grand Hyatt, scheduled to open next fall. That project was originally branded as a Hyatt Regency, but it has now been promoted from "upper-upscale" to "luxury," propelling it into the Grand stratosphere.
Of course Nashville Yards isn't the only development in town. If you want an overview of planned, pending, and underway projects, Nashville Business Journal's Crane Watch is a good source of info.
Booming biz
Again, another understatement. According to Inc Magazine's Surge Cities 2020 list, Nashville comes in at #15 among the 50 best places to start a business (beating out traditional startup powerhouses Boston, San Jose, and Seattle, by the way). Inc ranks Nashville fifth in job creation, sixth in net business creation, and 16th in population growth. It cites the city's $84 billion health care economy in particular, as well as the fashion industry (especially ethical fashion companies, such as flagship brand ABLE).
How are all these businesses getting off the ground? Two of the biggest boosts come from Launch Tennessee, a public-private resource that serves all of Tennessee, and Nashville Entrepreneur Center, a local Google for Startups Tech Hub, whose mission is to "connect entrepreneurs with critical resources to create, launch and grow businesses."
Resources such as mentorship, co-working spaces, workshops, and networking opportunities are enormously helpful to startups. No question. But so is money.
According to the Nashville Business Journal, "Investor cash continued to pour into Nashville in 2019," with numerous companies raising in excess of $10 million. The Journal highlighted infusion center operator IVX Health, which raised a $22.5 million round of funding, and Built Technologies Inc, a FinTech company that landed more than $24 million.
Access Ventures invests in Louisville and Southern Indiana
Access Ventures, a Louisville venture capital firm, has announced Render Capital, a new fund that will provide capital for Louisville and Southern Indiana startups. Access and Render focus on inclusivity by providing access to capital to those who have historically been left out. Render Capital will invest $2.5 million in the local community in 2020.

One goal of the effort is to establish Louisville as a national leader in building an "inclusive economy," one where all people have access to capital and the economy works for everybody. Access Ventures defines true inclusion as an economy where all people are valued regardless of race, ethnicity, sexual orientation, gender, or religion. Render's investments will focus around innovation and entrepreneurship.
Arch Grants is building a new economy in St. Louis
Want to bring an entrepreneurial culture to your city? You might consider doing it the good old-fashioned way: buying it. That's what St. Louis is doing with some promising results. A group of leaders there created Arch Grants in 2012 to attract startups via grant awards. Since then, the grant-winning businesses have created 1,800 jobs and attracted $239 million in capital.

The $50,000 Arch Grants, totaling $8 million, have gone to 151 startups from St. Louis and elsewhere around the country. Recipients include Loro, a company that develops wheelchair navigation; HireMe, a job site for disabled people; Edison Agrosciences, a company trying to produce rubber from sunflower plants; and SpenDebt, a software developer working on student debt reduction. The grant-making idea shows signs of paying off: 86% of the companies that are still in business have stayed in the St. Louis area.
Bolstering Cincinnati's startup community
A Cincinnati organization that helps tech entrepreneurs launch startup ventures has landed a grant from the Harold C. Schott Foundation. Main Street Ventures will use the $500,000 infusion to support emerging businesses and strengthen the entrepreneurial ecosystem in Cincinnati.
Main Street Ventures got its start in 1999 providing free workspaces and Wi-Fi to startups and grew to provide other support services. The Schott Foundation money will go to emerging businesses with potential to create jobs in the area in the form of small grants of $10,000 to $30,000. Main Street also provides "ecosystem" grants to support events that strengthen the entrepreneurial ecosystem. A key focus is on startups that can address societal issues like poverty and inequality.
The organization is hoping to raise an additional $1 million in the coming months. The Harold C. Schott Foundation is a Cleveland charity that supports health, cultural, and education institutions, primarily in Ohio.
Raleigh, NC #2 on CompTIA's list of best tech towns
Move over San Jose, there's a new town in town. Research from CompTIA showed that 78% of IT pros have moved, considered moving, or would consider leaving their current city for a new position, particularly if the new city offered affordability and a better quality of life.
The nonprofit conducted a study, called the CompTIA Tech Town Index, that looked at job posting data over a 12-month period (August 2018-July 2019) in 20 metropolitan areas with populations over 250,000, to see where demand for tech workers is greatest. This also included projected job growth over the next five years.
And guess who outranked number three San Jose? Raleigh, NC, took the second place spot. This just reinforces what Flyover Future has been saying—there is a nationwide need for an educated, tech-ready workforce.
According to the CompTIA report, the area's cost of living is 4.6 percent lower than the national average and information technology professionals get paid $3,582 more annually. The city also posted 35,589 IT job postings between August 2018 and July 2019.
It's ... Name that Flyover city!
Useless information that is strangely fascinating.
In what city would you be able to visit the Lincoln Home National Historic Site?

In what city is The National World War 1 Museum located?

This city is home to the National Civil Rights Museum.
Click here for today's answers
Please click the button below to share stories and offer suggestions or comments