More coastal money moving in – December 20, 2019
"Intuition will tell the thinking mind where to look next." - Jonas Salk
Today's itinerary:
A VC pioneer predicts that more money will be coming to flyover country in 2020.

Ohio is treating their entrepreneurs right.

Crazy tech, including agile robots and hot air balloons.

The week's funding and deals

Name that Flyover City!
December 20, 2019
2020 Prediction: Venture Capital will increase in 'flyover' cities
Photo via Flickr (CC BY 2.0)
Aileen Lee is a venture capitalist and founder of Cowboy Ventures. (She also coined the term "unicorn."
In a recent article for Fortune, called 25 Ideas That Will Shape the 2020s, Lee offered her take on what changes the 2020s hold in store for venture capital. She said that conversations between VCs and startups will include, from the very beginning, these questions:
Where will your headquarters be?

Will you have a distributed workforce from the beginning?



She said that those kinds of decisions determine how companies will build their culture and processes from the beginning. She sees that regionally focused VC firms will have more success and that Silicon Valley VCs will "spend more time on airplanes."
The move to flyover country will be further enabled by technologies such as Amazon Web Services, video conferencing and more uses of open source code. Lee told Fortune, "You can live—and work—anywhere."
Innovation is in Ohio's DNA
"Innovation is in Ohio's DNA," according to Lydia L. Mihalik, director of development and chair of the Ohio Third Frontier Commission.
As evidence of that, the Commission approved $76.85 million to help entrepreneurs develop innovative products and grow technology startup companies.
The Ohio Third Frontier Entrepreneurial Services Provider Program (ESP) provides resources around the state to help entrepreneurs get their ideas to the marketplace. Those resources include:
Mentorship by seasoned entrepreneurs and industry professionals




Access to investors and capital




Legal, tax, and accounting services




Assistance with marketing/sales strategies




Recruiting talent




Incubators providing state-of-the-art workspaces

Statewide partners that were awarded grants to provide these resources to Ohio's entrepreneurs include:
CincyTech LLC (awarded up to $13.5 million); JumpStart Inc. (awarded up to $26.5 million); Ohio University (TechGROWTH Ohio) (awarded up to $5.05 million); Rev1 Ventures Inc. (awarded up to $14 million); and The Entrepreneurs Center Inc. (awarded up to $10.8 million).
Companies aiming to license institution-owned technologies can also receive funding to accelerate commercialization through activities such as market research and further prototyping. This helps companies either raise funds or get the licensed technology to the marketplace faster.
At CMU, robots are learning to leap and tumble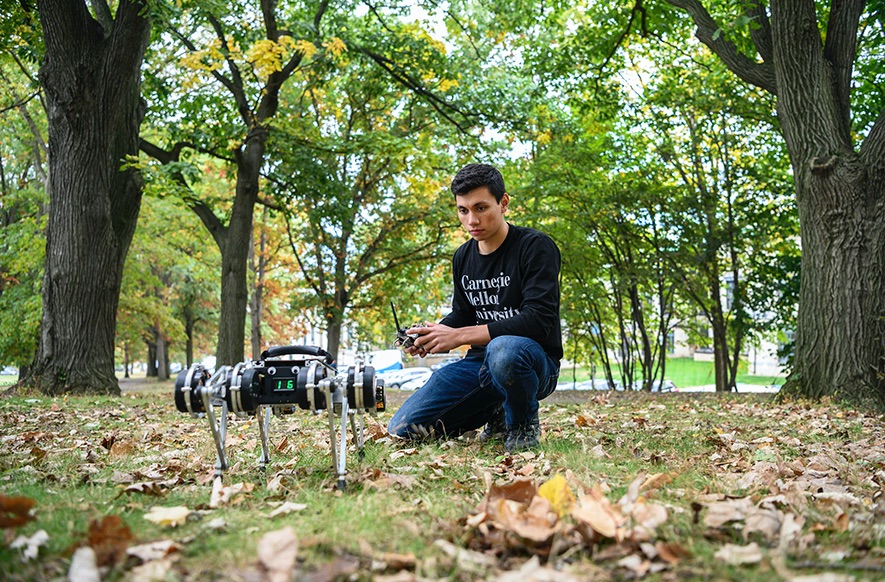 Photo courtesy Carnegie Mellon University
According to The Robot Report, one of the biggest challenges of robotics is navigating unmapped environments—and that includes unstructured terrain, such as hills. Carnegie Mellon senior Vinay Mitta, a mechanical engineering major with a minor in robotics, would probably agree. He spent last summer studying "dynamic obstacle clearance behaviors for legged robotics" with the help of a $3,500 Summer Undergraduate Research Fellowship. The work involved teaching the robot how to jump, tumble, or leap in order to navigate obstacles in its path, part of a larger initiative to study hill climbing.
Why does a robot need the ability to negotiate unstructured terrain? We're not talking about auto assembly or Amazon shipment duties, where the environment is predictable and easily navigable. Instead, a more agile robot might be tasked with performing search-and-rescue operations or survey projects.
Mitta has developed a passion for robotics, although the research apparently has its ups and downs. (And sideways.)
"It's a lot of work to get these behaviors fine-tuned," he said. "I can really only use the accelerometers within the robot and the feedback from its feet. It's sort of like asking someone to do box jumps blindfolded. It's surprisingly hard when you can't see what you're doing."
Can hot air balloons help rocket launches?
In the so-crazy-it-just-might-work department, imagine this: Some geniuses from a Purdue University-affiliated startup want to use hot air balloons to launch rockets. The startup, Leo Aerospace, recently presented its project at TechCrunch Disrupt.
While you're scratching your head about this idea, consider that most of the rocket fuel and engineering infrastructure involved in getting a rocket off the ground is literally used getting it off the ground. Instead, the researchers use hot-air balloons to gently lift the rocket a couple of miles into the earth's upper atmosphere, where it can then easily blast into orbit. The process requires much less rocket fuel but also much less rocket. A smaller rocket fits into a shipping container and can take off whenever and wherever the customer chooses. Even the balloon itself is recycled, further reducing the cost.
With the demand for orbital launches, um, skyrocketing, the technique could be a game changer for an industry that is struggling to keep up. While no one has created a successful commercial application for hot-air balloon rocket launches to date, the Purdue scientists have conducted many successful experiments and believe it is only a matter of time until the method is commonplace.
Upcoming conferences and events for founders
OP developers to receive $200M in tax breaks for their Brookridge project
The Overland Park, KS, city council has approved more than $200 million in tax incentives to advance the Brookridge project—a huge mixed-use development that's slated to include luxury apartments, restaurants, retail stores, and office space. The incentives consist of $158.8 million in tax increment financing and $46.5 million in community improvement district financing.
Richmond, VA-based startup accelerator gets $1M grant
Lighthouse Labs, an accelerator based in Richmond that supports startups through mentoring and funding, is receiving a $1 million grant from entrepreneurial nonprofit Activation Capital. The grant will be split into two installments, with the first $500,000 coming in July. If the company meets its milestones, it will receive the remainder of the grant in 2022.
Des Moines' FarmlandFinder raises $3M in series seed funding
FarmlandFinder, a portfolio company of Ag Startup Engine, has raised $3 million in series seed funding. Nicknamed "Zillow for farmers," FarmlandFinder offers digital tools to facilitate the buying and selling of agricultural land.
FinTech company Sezzle secures $100M in debt funding
Sezzle, a buy-now-pay-later company headquartered in Minneapolis, has announced that it has lined up $100 million in debt financing to help grow its business. Founded in 2016, Sezzle offers online shoppers a plan that lets them split the cost of purchases over four interest-free payments.

It's ... Name that Flyover city!
Useless information that is strangely fascinating.
The famous Budweiser Clydesdale horses call this city home.

The first historically black university in the South, Shaw University, is located in this city.

The Public Library in this city boasts the world's largest ceiling clock.
Click here for today's answers
Please click the button below to share stories and offer suggestions or comments