Riding out the storm – Why life's still great in Flyover Country
"The greater the difficulty, the more glory in surmounting it. Skillful pilots gain their reputation from storms and tempests." — Epictetus
Today's itinerary:
An update on COVID-19 research going on in flyover country

Digital Dream Labs acquires robots from Silicon Valley

Nashville's HealthStream acquires NurseGrid

Cities that are revolutionizing the daily commute

Name that Flyover City!
March 23, 2020
Good morning passengers!
As we all cope with the "turbulence" we call COVID-19, it is comforting to know that we are living in the best times ever to withstand the challenges we're facing.
Imagine the sophisticated connectivity we have in place that enables most of us to now stay productive from remote homes and offices. What would this have been like only 25 years ago?
This is also a time when researchers, entrepreneurs, and innovators of all backgrounds are coming together to collaborate and experiment and will do so until we have identified and produced a cure.
That spirit of innovation is thriving in Flyover Country. And it makes us proud to be able to tell you some of the stories about things we are all doing that will change our lives for the better.
Flyover innovation districts at work on COVID-19

Image courtesy Cortex Innovation Community
Innovation districts are proving to be even more valuable in the fight against COVID-19. Here are just a couple on the front line.

The Cortex Innovation Community
The Cortex Innovation Community is a main location for St. Louis' technology startup companies located near Washington University's medical campus, Saint Louis University, and Barnes-Jewish Hospital.
Saint Louis University is one of nine Vaccine Treatment Evaluation Units (VTEUs) in the U.S. established by the National Institute of Allergy and Infectious Disease.
The Saint Louis University Center for Vaccine Development is currently working on testing vaccine candidates, developing diagnostic assays in order to obtain data on the biology of the virus, and isolating neutralizing antibodies to the virus.

The Pittsburgh Innovation District
The Pittsburgh Innovation District is backed by a group of strong research institutions: Carnegie Mellon University, the University of Pittsburgh, and the University of Pittsburgh Medical Center.
The three make up the largest academic medical system in the country. The University of Pittsburgh School of Medicine's Center for Vaccine Research is leading the study of COVID-19 by developing disease models, which will be used to develop a vaccine.
Their research will occur in one of the 12 federally designated Regional Biocontainment Laboratories in the country.
Iowa biotech first to have test kits approved

Integrated DNA Technologies, a biotech company located in Iowa, was the first company in the nation to have their test kits approved by the CDC for use as a key component of the CDC EUA testing protocol.
Starting this week, the company expects to produce kits for 5 million tests on a weekly basis.
IDT, which has previously been involved in developing tests for the Ebola and Zika viruses and H1N1, will produce all the kits at their Coralville headquarters.
In an announcement, IDT President Trey Martin said "We are honored to be the first company in the nation to have our primer and probe kits approved by the CDC for use as a key component of the CDC EUA testing protocol for the diagnosis and detection of COVID-19."
Startup may have option for treating symptoms of COVID-19
While scientists are working hard to develop a vaccine against COVID-19, a Cincinnati-based startup is working on treatments for those who contract the virus.
On March 11, Airway Therapeutics Inc. company president and CEO, Marc Salzberg, MD, announced a filing with the Respiratory Diseases Branch of the NIH and NIAID, to evaluate AT-100 as a therapeutic option for COVID-19.
Airway Therapeutics Inc. has been developing a new class of biologics to break the cycle of injury and inflammation for patients with respiratory and inflammatory diseases. Their product, AT-100 (rhSP-D), targets bronchopulmonary dysplasia in newborns.
Previous research has shown rhSP-D to have strong anti-microbial properties that can reduce inflammation in the lungs, ultimately preventing lung injury, a major concern for COVID-19 patients with respiratory conditions.
Digital Dream Labs acquires robots from Silicon Valley

Digital Dream Labs, an ed-tech firm in Pittsburgh, has acquired the robots and assets from defunct Silicon Valley robotics firm Anki. The company has big plans for two tiny robots called Cozmo and Vector.
The small, cute robots are somewhere between pets, companions and smart speakers today, but the technology holds promise to expand into something much more.

Before its $1 billion funding effort failed, Anki sold two million Cozmos and 200,000 Vectors, so demand for the little fellers is strong. Digital Dreams Labs will begin selling them this year and expects to realize millions in revenue.
The company expects Cozmo and Vector to be popular companions for the elderly (they can remind you to take your meds), children with learning or behavioral disabilities and people with PTSD.
Nashville's HealthStream acquires NurseGrid

HealthStream, a publicly traded healthcare-HR company based in Nashville, has snapped up NurseGrid, a startup that helps nurses manage their schedules.
Nurses have unusual schedules and often swap shifts with one another, which is what the NurseGrid Mobile app makes easier.
Nurses can also easily communicate with one another via the app. There are currently about 260,000 nurses actively using NurseGrid Mobile.

NurseGrid also offers an app called NurseGrid Enterprise, which helps healthcare managers set nurses' schedules, communicate with teams, and approve shift swaps. NurseGrid, which is based in Portland, OR, has 20 employees. HealthStream paid $25 million for the company.
So, who's worried about ground transportation these days? Be patient, the topic of getting around will be quite relevant again in the near future!
University of Minnesota researchers could revolutionize your commute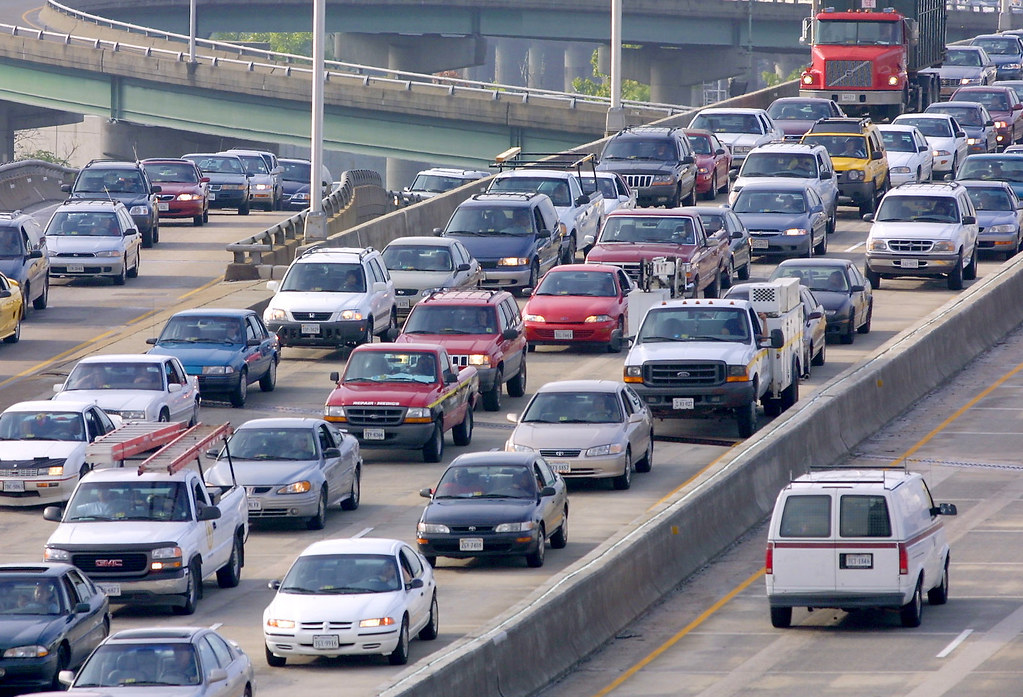 Photo courtesy Flickr
Fully autonomous cars are just over the horizon. But one gap in driving tech is the dreaded orange barrels that bring traffic to a crawl in construction zones.
While long-planned construction projects are often known to traffic apps like Google Maps and Waze, impromptu projects aren't.

University of Minnesota researchers hope to keep work zones running smoothly by bringing construction barrels and signs into our wired world.
Their project, the Statewide Work Zone Information System, is adding small beacons to barrels and signs that will warn approaching drivers and provide statewide, up-to-the-second status reports on work zones.
Road construction projects are more than just a nuisance. In the past three years, 31 people have died in Minnesota work zones and 120 more have been seriously injured. If approved by the Minnesota Department of Transportation, the system could be implemented within a couple of years.
Indy's rider-focused bus rapid transit

The new Red Line bus rapid transit system is Indy's effort to improve public transportation, serve thousands of riders, and stimulate economic development along the route.

The new system, which was designed by engineering firm CDM Smith, includes all-electric buses, which are quieter, release no emissions, and can be charged overnight.
Buses stay on dedicated lanes for much of the route, which keeps them out of rush-hour traffic. The dedicated lanes are bi-directional, using traffic-signal technology to keep the buses running smoothly. The result is faster, more reliable bus service.
It's ... Name that Flyover city!
This city is known for having tiny "fairy doors" hidden around town.

In what city is Rupp Arena located?

Forget the California Gold Rush! The first one happened in this city almost 50 years earlier.
Click here for today's answers.
Please click the button below to share stories and offer suggestions or comments