Space tech from Ohio | How to become a smart city | Israeli firms eye the Midwest
"To infinity and beyond!" — Buzz Lightyear

Today's itinerary:
Space tech from Ohio


Innovators podcast: data & decisions

How to become a smart city

Madison innovation grants

Israeli firms eye the Midwest

Fueling the Future

Name that Flyover City!
October 22, 2020
Cutting edge tech from Ohio bolsters NASA missions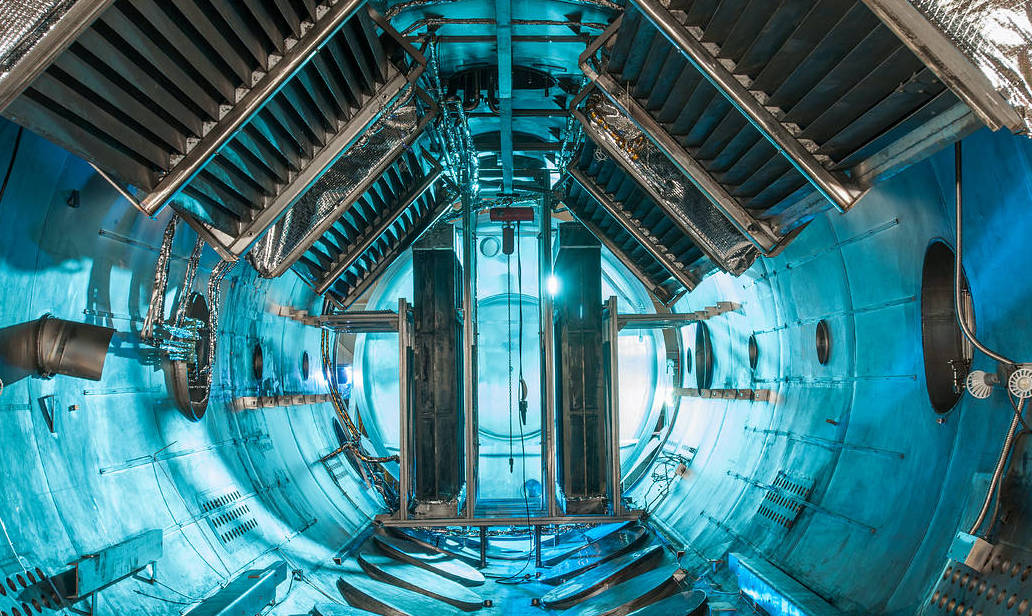 Vacuum Chamber 5 (VF-5); courtesy Glenn Research Center
NASA's Glenn Research Center in Cleveland employs nearly 3,300 people in Cleveland and Sandusky who are working to develop cutting edge tech that will change the way NASA does business. We spoke to Jan Wittry, APR, News Chief for NASA's Glenn Research Center about what they're up to.
What are some of the most prominent things Glenn Research Center currently working on?
Wittry: We're contributing to nearly every step of the Artemis program – from the moment we launch from Earth to enabling our explorers to live sustainably on the surface of the Moon and even Mars.
NASA Glenn is helping with future versions of the Space Launch System that will allow it to carry even more payload into space.
We're also developing advanced electric propulsion technologies to help agency, government and commercial partners enhance capabilities, extend duration, and lower costs for a variety of new exploration, technology and science missions. We're really excited about the Power and Propulsion Element for Gateway. It will help drive commercial investments in advanced electric propulsion capabilities as we look to travel to Mars and beyond.
We support NASA's Human Landing System through our spacecraft power systems and Cryogenic Fluids Management. We're building surface power generation and distribution systems that will ensure there is plentiful and reliable power once we land on the moon. Our game-changers are cutting-edge power generators which ensure systems that can operate in sunlight, in shadows of craters or in complete darkness.
How did you happen to be in Cleveland and what do you think are the advantages of being located there?
Wittry: NASA's Glenn Research Center was originally established as the Aircraft Engine Research Laboratory (AERL), part of the National Advisory Committee for Aeronautics (NACA) in 1941. At the time, Cleveland had the nation's most advanced airport and several aircraft manufacturing companies, and it was home to the National Air Races. It was also able to broker a deal with the power company to discount its electricity rates if the large wind tunnels were operated overnight.
The lab became a national resource for innovations in aircraft engine technology. In 1999, NASA Lewis was renamed the John H. Glenn Research Center at Lewis Field.
Ohio ranks 6th in the nation in aerospace manufacturing, which makes it an ideal location for a NASA facility. We are also fortunate to be located near the Wright Patterson Air Force base in Dayton, the Cleveland Clinic, University Hospitals and several major universities, including Case Western Reserve University and Cleveland State, which offer excellent opportunities for partnerships, internships and recruiting.
We're also proud of our strong, Midwestern work ethic and our talented, devoted workforce who come together to create a friendly and family-oriented work environment.
Data driving decisions from appliance repair to brand colors
How does data keep your refrigerator from breaking down on you? Can data select the best colors for your company logo?

Hear different data-centered perspectives from two longtime collaborators - creative marketer Jenn Callahan (liveFire) and fintech veteran Julie Messer (Hornbeam Insurance) on this week's episode of Flyover Future's Innovators podcast. These guests have a conversation about data culture, legacy systems, and solving problems with hosts Ben Reno-Weber from Louisville's Future of Work Initiative and our executive producer Brian Eichenberger.
How to become a smart city
Aurora, IL is making a bold move to become a smart city. Unlike many cities, which set up innovation districts where startups, tech firms, and research institutions can gain synergy, Aurora is making the entire city an innovation district. The plan is the most excellent work of Aurora's CIO Michael Pegues, who was featured in a recent Forbes story.

The innovation district idea is part of a vast economic development effort called Smart Aurora. The city is investing $300 million to improve city services, expand internet connectivity, increase youth programs, and improve public safety. It also includes some flashy touches, like digital signage and a 120-mile fiber network. Perhaps most significant of all is a pledge by city officials to cut through layers of government bureaucracy.
The program also includes a focus on helping kids get access to technology, job opportunities, and STEAM (science, technology, engineering, arts, and math) education. Party on, Aurora!
Small business grants fund innovative Madison companies

Several Madison businesses have won grants of $100,000 each to support innovation and commercialization. The grants are awarded through a partnership between the Wisconsin Economic Development Corp. and the University of Wisconsin's Center for Technology Commercialization. Besides the funding, the companies will be eligible for training, business-plan reviews, and other consulting from the UW Center for Technology Commercialization.
The companies are:
Israeli firms eye the Midwest
Historically, Israeli firms have expanded their funding and talent needs to New York City or Silicon Valley in order to build a global business. When COVID-19 hit, that all changed. Now, according to an article in Forbes, Israeli firms have shifted their attention to under-the-radar tech hub cities. Two of the cities mentioned in the article are Tulsa and Cleveland.
Tulsa
Tulsa has positioned itself as a center for virtual health, energy tech, drones, cyber, and analytics. It also created Tulsa Remote as an approach to attracting talented remote workers. Another bonus is the University of Tulsa, one of the largest feeder programs to Homeland Security and the NSA. Tulsa-based Atento Capital has already invested in two high-profile Israeli-focused venture firms, Team8 and Hanaco Ventures. both committing to exposing their startups to the growing tech talent in Tulsa.
Cleveland
With the Cleveland Clinic, the city has become a health tech powerhouse by turning scientific discoveries into commercial products. It also has an active VC community, according to Forbes; one that is "focused on Midwest innovation, hungry entrepreneurs, and support from the local government." That makes the city worth considering for Israeli founders."
Keep your eyes on the Midwest!
What is fueling Flyover Country innovation? In this weekly feature, we will share a variety of announcements covering funding, acquisitions, exits, grants, and everything in between. Got something to celebrate? Click here to share your story.

It's time for our favorite trivia game!
Test your Flyover geographic knowledge with these three "stumpers." There are no prizes (except for bragging rights).
In what city would you find the historical structure called the Sunsphere?

What city is home to the Kleinert Kutz Hand Care center, whose team performed the first successful hand transplant?

Pinterest's founder, Ben Silbermann, was born and raised in this city.
Click here for today's answers.