Wheels Down: Oklahoma City | Developers & datasets | John Deere & robotics
Today's itinerary:
Wheels Down: Oklahoma City

Twin Cities Startup Week: Sept. 17-24

Battery powered trains

Kansas City airport rolls out interactive tech

Longer-lasting bridges with new tech

A way for developers to share their datasets

Fueling the Future

Name that Flyover City!
August 26, 2021
WHEELS DOWN: OKLAHOMA CITY

Oklahoma City focuses on biotech and aerospace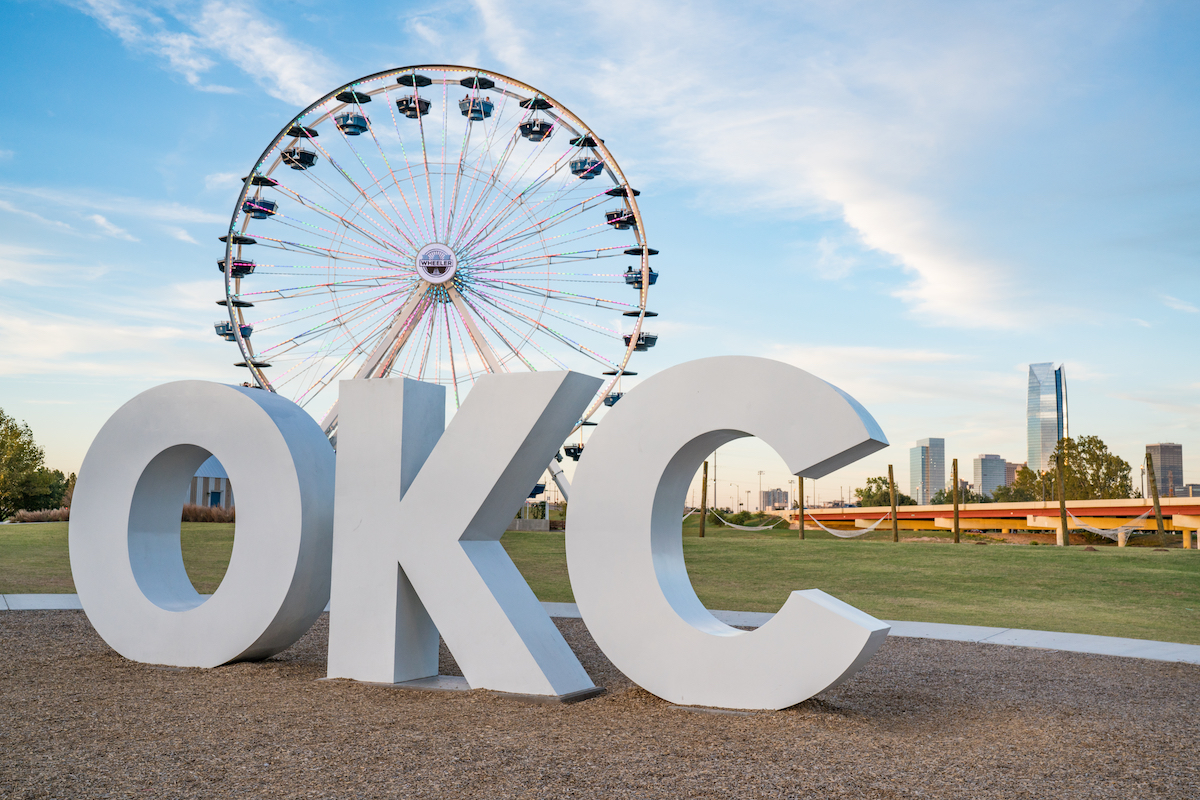 Image by Paul Brady Photography for Shutterstock
Rodgers and Hammerstein may have thought O-K-L-A-H-O-M-A was O-K, but the Sooner State and its biggest city were anything but in the 1980s. In fact, before 1993, "living in Oklahoma City kind of sucked," according to David Holt, who worked for Mayor Mick Cornett from 2006 to 2010. As a history of the state's economy later explained, "the traumatic collapse of the energy business led to substantial out-migration, failure of financial institutions, excess capacity in real estate and fiscal crises in state government."
However, everything began to change in 1993. That year, Oklahoma City residents decided to pull themselves up by their cowboy bootstraps and turn their hometown into a "big league city."
If you build it, they will come
After the city lost out on a bid for a new United Airlines maintenance facility — it went to a sister heartland city Indianapolis — Mayor Ron Norick and the Greater Oklahoma City Chamber of Commerce proposed the Metropolitan Area Projects Plan (MAPS), which would use a time-limited, one-cent boost to the local sales tax to fund specific civic-improvement projects.
Voters approved the first phase of MAPS in 1993, and then subsequent phases in 2001, 2010 and 2019. Over the years, MAPS has paid for everything from convention center improvements and a trolley system to construction of schools and the popular Scissortail Park. In 2019, the Greater Oklahoma City Chamber reported that, because of MAPS, "Oklahoma City has changed its economic trajectory and created a place where people and businesses want to relocate…. All combined, the MAPS programs have reshaped Oklahoma City as a place to live, work and play, and set a foundation for Oklahoma City's next era of growth."
OKC's economy today
Today, Oklahoma City boasts a diverse economy — far more diverse than when its fortunes rose and fell with the price of crude oil. Of course, energy is still a major sector, but the local chamber also boasts of the city's other strengths.
In 2019, the citizens of Oklahoma City approved a $71 million investment in the burgeoning innovation district — a 1.3 square mile ecosystem of collaboration, innovation and economic growth located in historic, northeast Oklahoma City. It is surrounded by organizations spanning Oklahoma's diverse sectors, including biotech, health care, aerospace and unmanned systems, specialized manufacturing, academia, technology and energy.
"Oklahoma City is home to over 290 aerospace firms, with those producing $11.6 billion in goods and services locally."
Biotech
Oklahoma City's bioscience companies boast annual revenues of more than $6.7 billion. This year, a group of local developers are building a 2.7-acre development in the heart of the innovation district that will feature biotech research labs, office space, a hotel and retail space.
The University of Oklahoma Health Sciences Center earned a record high $190 million in federal and state awards during the 2020 fiscal year.
Aerospace
The city has taken a purposeful approach to building its aerospace sector. Oklahoma City is home to more than 290 aerospace firms, with those producing $11.6 billion in goods and services locally. It is home to Tinker Air Force Base and is a draw for aerospace companies from other parts of the world. In 2020, Skydweller Aero, a U.S.-Spanish aerospace company developing renewably powered aircraft for defense and commercial industries, moved its headquarters there.
Accolades
Major advantages are the city's location in the geographic center of the country, its temperate climate (which is sunny or partly sunny for two-thirds of the year), and its friendliness toward business. According to a study from Arizona State University's Center for the Study of Economic Liberty, Oklahoma City is at the top of North America's cities and major counties as the easiest place to do business for small- and medium-sized firms.
WalletHub ranked Oklahoma City number 13 for best-run cities in America and CBRE ranked it among the top cities for tech talent growth. If you're considering making a move, then Oklahoma City has lots of advantages.
Utilizing existing freight lines

PITTSBURGH, PA—Urban areas in the U.S. have underutilized freight lines that could also support transit service. A team of Carnegie Mellon affiliates are developing Pop-Up Metro, a battery-powered, modular train that can be inserted onto existing infrastructure. It's the first battery powered train in the U.S.

Kansas City airport rolls out interactive tech
KANSAS CITY, MO—Siemens and SITA are providing the Kansas City Aviation Department with scalable technologies for the Kansas City International Airport's New Terminal project. Dubbed Build KCI, the project will roll out interactive technology for airport staff and deploy next-generation passenger touchpoints like touchless kiosks, flight information display systems and video walls that provide a more intuitive journey through the new terminal.
Making longer lasting bridges with technology
SOUTHFIELD, MI—Lawrence Technological University's Center for Innovative Materials Research has been developing bridges made with pretensioned carbon fiber reinforced polymer (CFRP) strands instead of steel bars for reinforcement — producing longer-lasting bridges that cost less to maintain. In partnership with the Michigan Department of Transportation (MDOT), the school demonstrated the strength of a 41-foot-long section on a test bridge. The bridge took nearly 180,000 pounds of pressure, bowing downward nearly two feet before collapsing.
A way for developers to share their datasets
What is fueling Flyover Country innovation? In this weekly feature, we share a variety of announcements covering funding, acquisitions, exits, grants and everything in between. Got something to celebrate? Click here to share your story.
It's time for our favorite trivia game!
Novelist Michael Chabon, who wrote "Wonder Boys," set many of his novels in which city?

Music stars Chet Atkins, Roy Acuff and Kenny Chesney were all born in what southern city?

Which midwestern city is home to an annual arts festival, held at Western Gateway Park and which attracts over 200,00 visitors?
Click here for today's answers.
Share stories, offer suggestions, or send comments!