Yoi, yoi, double yoi! – August 28, 2019
"Steeling" my heart away

Today's itinerary: We take a stop in Pittsburgh; bridging the cybersecurity skills gap; female entrepreneurs in Kansas City and IceCube goes to the Smithsonian
August 28, 2019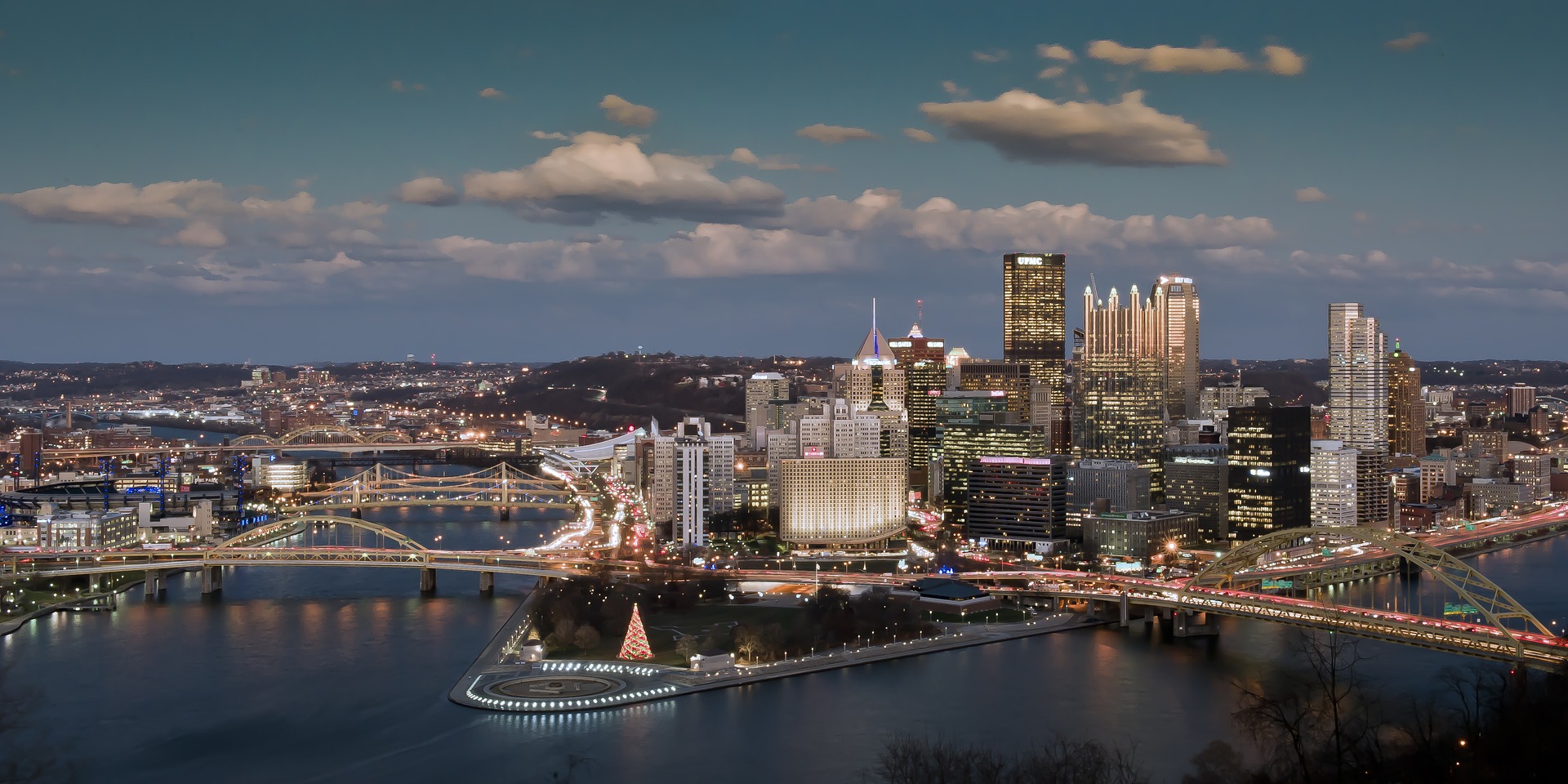 Pittsburgh, located in southwest Pennsylvania at the junction of the Allegheny, Monongahela, and Ohio rivers, is known as "the Steel City" for good reason. It has more than 300 steel-related businesses.
But the same level of energy, innovation, and entrepreneurship that has served Pittsburgh in the steel industry is now growing the area in terms of high technology, robotics, health care, nuclear engineering, tourism, biomedical technology, finance, education, and services.
Service startups
One startup, 412 Food Rescue, recently developed a philanthropic technology that automates the collection of donations of uneaten, unsold produce that would otherwise go to waste. The philanthropy-funded company transports the food to local charities and other nonprofit organizations using volunteer drivers.
Leah Lizarondo, CEO and co-founder of 412 Food Rescue, says the cause behind her company is simple.
"We are responding to the alarming statistic that roughly 40% of our food supply is going to waste. Food waste is one of the largest emitters of greenhouse gasses, and we have hungry Americans," she said.
Lizarondo tells us she plans to grow her business to be operating in 30 cities within the next five years.
Carnegie Mellon influence
Another company, nanoGriptech, is a Lawrenceville-based startup from Carnegie Mellon University with a new product that's turning heads. With its multi-patented Setex material, nanoGriptech is revolutionizing the adhesive industry with groundbreaking technology that acts as "silent velcro." The technology mimics the tiny suction cup-like "nano hairs" on the feet of a gecko.
The application of this product ranges from medical use to consumer and industrial and has the potential to expand into other applications, such as military use.
nanoGriptech received a $1.7 million investment from a Taiwanese venture firm earlier this year, according to CEO Nicholas Kuhn.
University of Pittsburgh Innovation Institute
Tony Torres from the University of Pittsburgh's Innovation Institute tells us we will see some incredible new technology from his facility shortly.
Among the 17 startups that have already come out of the facility just this year, many benefit meaningful causes. A company called Atimize developed an air-powered wheelchair designed for disabled individuals to be able to use the pool. Torres says the chair was developed by request at the facility from a young, disabled water park owner.
"It's powered by air so that you can drive it by ramp right into the pool without any issues," he said.
Treating illness
DeepRX is another byproduct of the innovation department with a concept that could change the way we treat terminal illnesses in the future.
They've developed a clinical decision support platform for cancer treatment using patient-specific data to provide therapy recommendations based on predicting tumor sensitivity to specific drugs.
Torres says that the institute is currently working with something called "hydrogel," a sponge-like material that can be used in places with severe lack of water to absorb the water from the surroundings more efficiently.
Once absorbed, the contents can then be squeezed to capture fresh drinking water that otherwise would not have been obtainable.
Working in Pittsburgh
The largest employer in the city is the University of Pittsburgh Medical Center, with 48,000 employees. Six Fortune 500 companies call the Pittsburgh area home: PNC Financial Services, PPG Industries, U.S. Steel, The Kraft Heinz Company, WESCO International, and the Findlay Township, PA-based Dick's Sporting Goods.
The nonprofit arts and cultural industry in Allegheny County generates $341 million in economic activity that supports more than 10,000 full-time equivalent jobs with nearly $34 million in local and state taxes raised.
Environment
A leader in environmental design, the city is home to 60 total and 10 of the world's first green buildings, while billions have been invested in the area's Marcellus natural gas fields.
Data from the cockpit
City population: 302,407


Allegheny County population: 1.22 million


Median household income: $58,521


Average age: 36


Average home cost: $160,000


Home to five professional sports teams: Pittsburgh Pirates (MLB), Pittsburgh Steelers (NFL), Pittsburgh Penguins (NHL), Pittsburgh Riverhounds (USL), and Steel City Yellow Jackets (ABA)


Largest employer: University of Pittsburgh Medical Center, with 48,000 employees


Fortune 500 companies that call Pittsburgh home: PNC Financial Services, PPG Industries, U.S. Steel, The Kraft Heinz Company, WESCO International, and Dick's Sporting Goods
Last, but certainly not least, Pittsburgh has the most bars per capita in the nation.
Pitt hospital one of the best

The University of Pittsburgh Medical Center (UPMC) Presbyterian Shadyside Hospital was recently ranked as one of the best in the nation, according to the US News annual Best Hospital Honor Roll.
Two Pennsylvania hospitals actually landed in the nationwide top 20. University of Pennsylvania-Penn Presbyterian, Philadelphia tied with the Mayo Clinic-Phoenix for the number 18 spot.
But UPMC Presbyterian Shadyside not only came in at number 15, it was also ranked in the top 10 for a pair of specialties: cancer (#7) and gastroenterology and GI surgery (#8). Among the procedures and conditions that earned it those honors were abdominal aortic aneurysm repair and aortic valve surgery, colon cancer, heart bypass surgeries, and hip and knee replacements.
Within the Pittsburgh market, the top five played out like this:


1. UPMC Presbyterian Shadyside
2. St. Clair Hospital, Mt. Lebanon
3. UPMC Passavant
4. Allegheny General Hospital
5. Excela Health Westmoreland Hospital, Greensburg
Cincinnati's Cintrifuse Syndicate Fund Closes Milestone Second Strategic Fund of Funds at $56 Million (Cintrifuse)
Study: Emotional Exhaustion Takes A Toll On Entrepreneurial Ventures (mitechnews)


How Raleigh, NC, compares on cost of living with biggest US cities (Triangle Business Journal)


Michigan company lands $200k federal grant to advance energy storage technology (MiBiz)
CyberUp bridges the cybersecurity skills gap

Image by LinkedIN

Ransomware. Denial of Service attacks. Identity theft. Internet of Things threat vectors. Yep, cybercrime has worked its way into nearly every corner of our online lives. And along with the proliferation of these crimes comes the demand for skilled security professionals to protect our networks, our privacy, and our data.


Unfortunately, there aren't enough cybersecurity pros to go around, and companies are struggling to find workers who can fill their cybersecurity needs.


One company that's focused on developing cybersecurity talent is St. Louis-based nonprofit CyberUp. Through its apprenticeship program, CyberUp is helping middle and high school students, as well as adults, become proficient in the skills needed to launch a cybersecurity career. It also focuses on providing training opportunities for underrepresented people, such as women, people of color, and veterans.


No formal education in technology is required to come an apprentice. In fact, CyberUp offers an eight-week pre-apprenticeship crash course to get candidates up to speed on cybersecurity technology and help them develop the soft skills necessary for the job role.


"Our mission is to close the cybersecurity skills gap by training the workforce of today and inspiring the workforce of tomorrow," said executive director Tony Bryan on EQ, a website that covers the St. Louis startup scene. "We do that through our apprenticeship program and by engaging middle school and high school students in camps, clubs, and competitions."
KC female entrepreneurs earn global awards

Earlier this year, Enterprising Women Magazine announced the winners of its annual 2019 Enterprising Women of the Year Awards. The awards—which encompass seven categories based on annual sales—honor the top female business owners around the world. Winners had to show that "they have fast-growth businesses, mentor or actively support other women and girls involved in entrepreneurship, and stand out as leaders in their communities."
The award winners came from all the corners of the world, including South Africa, India, Turkey, Switzerland, and Kenya, as well as across the US—such as Kansas City.
In fact, KC was well represented in the awards, with four winners:
Stephanie Isaacson, owner of New Horizons, LLC

Janelle Burlin, the co-founder and principal of KJB Packaging Solutions

Sheryl Vickers, the owner of Select Sites LLC

Jeri Kling, the founder and CEO of Bartunek Group

Mad props to these women for earning prestigious recognition for their businesses and shining a light on female entrepreneurship in Kansas City!
UW-M's IceCube goes to the Smithsonian

IceCube Drill Camp in Antarctica. Photo by Alan Light Via Flickr (CC BY 2.0)
A piece of IceCube arrived at the Smithsonian this month to become part of its permanent collection. (No, not that IceCube—not to say he's not an historical treasure in his own right.)
We're talking about the IceCube that consists of spherical optical sensors beneath the ice of Antartica, designed to "look for point sources of neutrinos in the TeV range to explore the highest-energy astrophysical processes." IceCube was developed and supervised by researchers at the University of Wisconsin-Madison.
Kael Hanson, IceCube's director of operations at the University of Wisconsin-Madison, says that the sensor being invited to D.C. is a great honor. "It's the Smithsonian. It's an invite-only club."
Back to Pittsburgh (briefly)
We'll wrap it up today with a few more fun facts about Pittsburgh
Pittsburgh is known as the "City of Bridges" because it has 446 bridges which is more than Venice, Italy, or any other city in the world.

In 1920, 80% of the glass made in the United States came from Pittsburgh.

Bicycle Heaven in Pittsburgh is the world's largest bike museum

Babe Ruth hit the last three home runs of his career at Pittsburgh's Forbes Field
Share stories, suggestions or comments
Do you have an interesting story about innovation in a local business, university, or your city that you'd like to amplify to our readers and followers? Do you know a cool place where locals hang out that you would share with visitors? Or, do you have an unusual or quirky story to share about your town? Then share your stories, pictures, press releases, or other media with us and we'll take it from there!
Also, please feel free to share other suggestions or comments on stories.
Simply click the button below to get started.