Eli Lilly's antibody treatment | A vaccine at WashU goes to phase 3 | Priorities for mayors
Flyover Country fights the pandemic
A special report from:
FDA clears emergency use for Eli Lilly treatment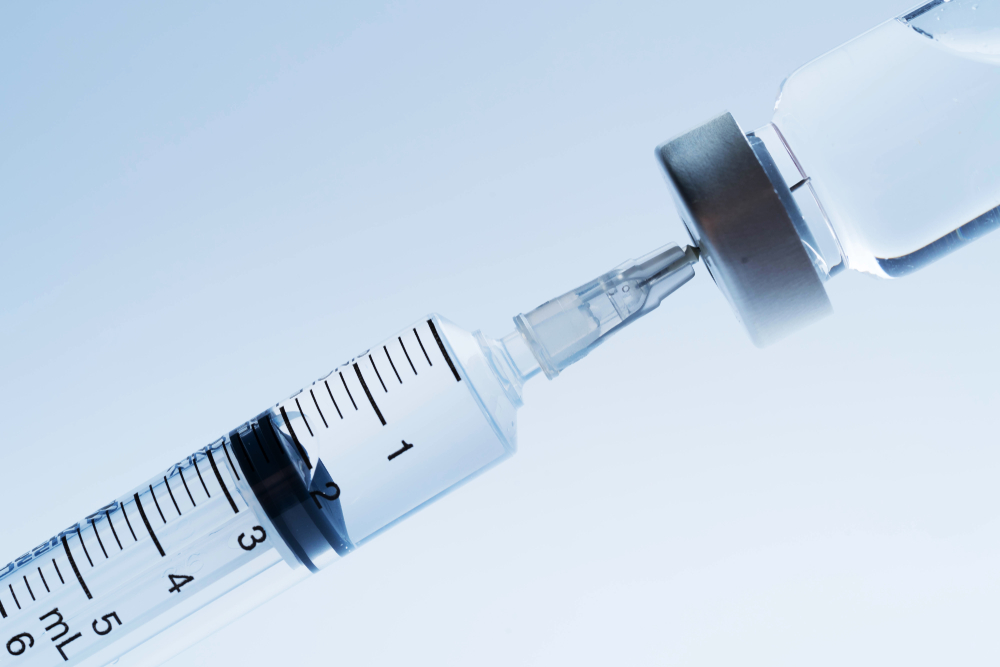 Image by onair for Shutterstock
The FDA has cleared Eli Lilly's antibody drug, called bamlanivimab, for emergency use in treating patients with COVID-19. Early studies show that it might help clear the virus sooner in people with mild to moderate symptoms. It is a one-time treatment delivered through an IV. Bamlanivimab is a laboratory-made version of concentrated antibodies the body creates to help eliminate foreign infections.
Normally, the FDA requires "substantial evidence" to prove a drug's safety but during an emergency the agency can lower those standards and allow use of an experimental drug. Lilly is continuing research on the drug and will have to submit more data to fully design the drug's safety and benefit.
COVID vaccine trial moves to Phase 3 at WashU
In the race to create a safe and effective vaccine for COVID-19, one candidate at Washington University is moving to a Phase 3 clinical research study. The candidate, JNJ-78436735, is made by Johnson & Johnson's Janssen Pharmaceutical Companies. WashU's School of Medicine will study the vaccine in 60,000 adults, including 500 in the St. Louis region.

The clinical trial, dubbed "Ensemble," will be a randomized, double-blind, placebo-controlled study. The university plans to enroll adults aged 18 and older, with significant numbers of people over 60, including people with and without COVID comorbidities. The trial is a collaboration of government agencies associated with the National Institute of Allergy and Infectious Diseases, which is part of the National Institutes of Health. Volunteers who are interested in participating can learn more at Ensemble's website.
Michigan Habitat ReStore wins innovation award
A Habitat for Humanity ReStore in Mayfield Township, MI, has won a statewide Innovation Award for its efforts to keep low-income people in their homes during the COVID-19 pandemic. Habitat ReStores offer consumers new and used building materials like windows, doors, cabinets, sinks, tools, plumbing fixtures, and furniture. The stores, which typically require lots of volunteer help, are critical to low-income homeowners.

The Mayfield Township ReStore closed for a couple of months earlier this year but reopened in May, thanks to the dedication of its employees and volunteers. During the downtime, the local Habitat for Humanity's leadership put together an online auction that raised money to keep Habitat's operations going, including new construction and housing rehabs.
Over the summer, the teams completed critical repair programs in 35 projects. "We are delighted to honor the Habitat affiliates, volunteers, and homeowner partners who have worked tirelessly to ensure that people in their community have access to safe, decent, affordable housing," said Sandy Pearson, president and CEO of Habitat for Humanity of Michigan.
Cincy library enlists tech to provide equity, safety to all
Cincinnati's Downtown Main Library has added some impressive tools to make the library equitable and safe during the COVID-19 pandemic and beyond. Here's a brief look at some of the library's recent enhancements:
Zoho is a screen-sharing program that lets staff help people using the library's PCs from a distance. Using Zoho, a staffer can mirror the user's screen and chat from across the room, letting staff lend PC support from afar.
MakerSpace helps teachers, small business owners, and nonprofits create vinyl signs, banners, posters, and stickers at a low cost. The space offers Adobe Photoshop and Illustrator on PCs and Macs, as well as providing help using the programs.
Here's a great asset for students and workers trying to work from home with poor bandwidth: The library now lets customers check out mobile hotspots using their library cards.
Library cardholders can also access online courses via Lynda.com. Courses in coding, web design, and app creation are also available via Treehouse. Both Lynda.com and Treehouse are free for cardholders. Three cheers to the library for its work on equity.
Study highlights US mayors' key COVID priorities
A recent Conference of Mayors study underscores the need for infrastructure and tech investments to get cities back on their feet amidst the pandemic. The study, conducted jointly by Siemens and The Harris Poll, surveyed the mayors of 124 cities with populations of 30,000 or greater.
Stopping the spread of the coronavirus topped the list of urgent concerns, but respondents also cited several key spending priorities, such as investing in infrastructure to create jobs and boost economic growth, finding new tax revenue streams, expanding virtual city services, and addressing crisis preparedness and recovery.
A majority of the mayors (84%) said that it's important to invest in technologies that enable people to work remotely, like 5G and universal Wi-Fi. In addition, they emphasized the need for smart solutions that will help stop the spread of the virus and enable businesses to reopen safely—things like sensor tech for social distancing, bacteria reduction via ultraviolet technology, contactless body temperature measurement, and improved air quality.
Share stories, offer suggestions, or comment!