Engineering & dental safety | Augmented reality for education | A digital vaccination card
Flyover Country fights the pandemic
A special report from:
Dental school safety research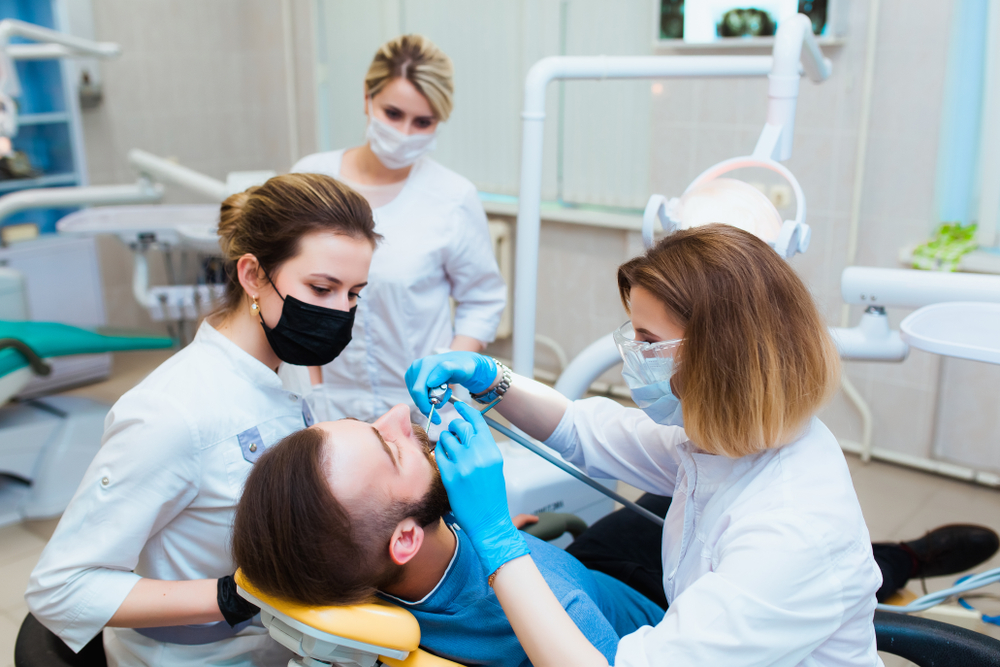 Image Image by ARLOU_ANDREI for Shutterstock
Engineering students at the University of Michigan have come up with guidelines for the School of Dentistry for reducing COVID exposure. While close proximity and confined spaces are problematic in regular dental offices, the dental school had more problems due to cubicle set-ups. There are low barriers between cubicles so that instructors can peek over the top to speak to students.
The engineers utilized sensing equipment often used to analyze auto emissions to understand areas of concern. With high-speed imaging, particle spectrometers, the scanning mobility particle sizing systems, and optical particle counters, they were able to see how the aerosol droplets from dental procedures were being created and what happened to them.
Video production in the time of COVID
Here's another example of how creative companies pivoted during the pandemic in order to survive. KC's Bark Productions, which creates creative production, editorial and motion graphics, is no exception.
Bark co-founder Mark Schotte said the most immediate effect from COVID is that advertisers no longer wanted to do production, something that was evident in the fact that the number of shoots they did declined by half.
They couldn't get around the obstacle with Zoom, like other businesses were doing, because video depends on a steady internet connection without dropped calls and glitches.
So they created kits they could ship nationwide that include a laptop, video camera with a stand, microphone and light with a stand. The video captured is recorded directly to the computer, bypassing faulty internet connections.
Augmented reality tool used at Wayne State
Wayne State University is collaborating with Ann Arbor's BrandXR to launch augmented reality technology that will help medical and chemistry students learn amid COVID-19.
Wayne State is the first university to work with BrandXR on the technology. The first app they developed was the 3D Molecule Viewer, which creates 3D models of protein-drug complexes in augmented reality using a smartphone.
Students will be able to learn virtually, from any location, how drugs interact with their targets on a molecular level. They can also see lesson plans in 3D and, in turn, share their work with other classmates and professors.
A digital vaccination card
TrackMy Solutions, a Kansas City technology provider, has transformed an existing technology into a tool to be used with the COVID-19 vaccine.
The tech known as VAERS (Vaccine Adverse Event Reporting System) was already being used by patients and providers. The problem TrackMy Solutions saw was that there were five different web pages that a patient had to fill out. The TrackMy Vaccines platform is like a digital vaccination card--a means of recording any side effects to the COVID-19 vaccination, offering reminders to patients about their second vaccination appointment, as well as giving them access to their inoculation documents.
The platform is HIPAA compliant to protect patient privacy.
Share stories, offer suggestions, or comment!