Measles vaccine may stop COVID-19 | New antibody discovered | Decreasing time on ventilators
Flyover Country fights the pandemic
A special report from:
Measles vaccine may stop COVID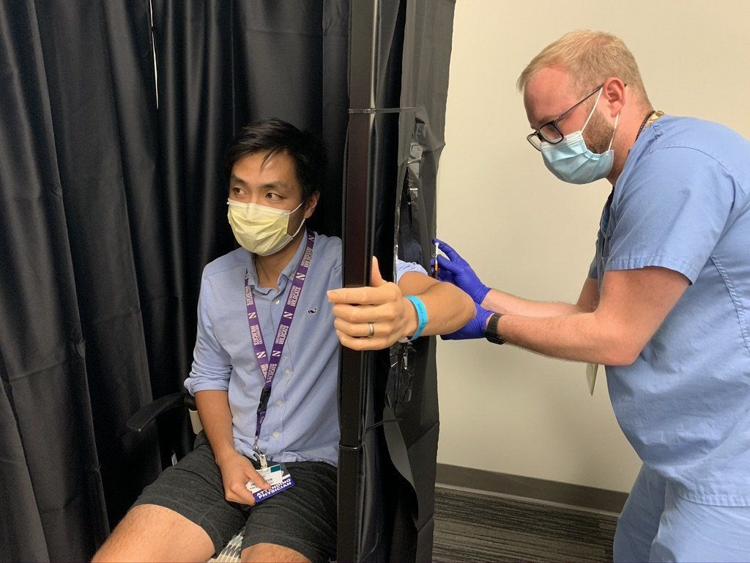 Image courtesy Washington University in St. Louis
Researchers at Washington University in St. Louis are leading a large trial to determine whether the common childhood vaccine for measles, mumps, and rubella (MMR) can prevent COVID-19. Wait, what? Sometimes it sounds like scientists are throwing stuff on the wall to see what sticks, but there's some cause for optimism here.
The MMR vaccine includes small amounts of live, weakened viruses that have some similarities with the coronavirus. Similar proteins on their surfaces infect human cells, and the MMR vaccine may elicit a response from the immune system that could prevent COVID infection. It could halt or at least lessen the severity of illness for those who become infected.
If it works, it could be used immediately on healthcare and other front line workers. The trial, which is being done in St. Louis as well as nine countries globally, will test 30,000 people.
Pitt scientists discover antibody that attacks coronavirus
A team at the University of Pittsburgh has discovered an antibody that could both treat and prevent the coronavirus that causes COVID-19. The antibody, called Ab8, has been shown to be safe and effective in mice and hamsters. The Pitt scientists hope to develop a drug for clinical trials in early 2021.
If it works, the new drug could be used both as a neutralizing antibody to prevent infection and as a treatment for patients with COVID. Any treatment would still need to go through the lengthy process of FDA approval and clinical trials, so a drug is not imminent. Other unknowns: Would Ab8 be as effective as a vaccine? Would it be effective in patients already very sick? And will the antibodies last long enough in the body to matter? Stay tuned.
Kansas State studying COVID in meatpacking plants
The meatpacking industry has seen enormous upheaval from COVID-19. At first, there was a run on meat in grocery stores. Then, COVID came after the workers, causing plants to shut down temporarily, exacerbating the supply shortage. The pandemic has resulted in food and feed supply chains being disrupted not just in the US but around the world.
The conventional wisdom is that COVID spreads though droplets in the air and on surfaces. Meat and poultry processors have scrambled to make the work environment safer for workers. Now a study at Kansas State University's College of Veterinary Medicine and College of Agriculture will look at how to control the virus in processing facilities. The study is funded by a $1 million grant from the USDA and $330,000 from the state of Kansas.
Researchers will investigate exposure from air and surfaces, how long the virus stays present, and the effectiveness of cleaners and sanitizers. They'll also look at worker proximity and air movement, and come up with mathematical models to predict exposure.
Attend the virtual Vogt Awards Demo Day on Oct. 15
Register now for the virtual Vogt Awards Demo Day on Thursday, Oct. 15.
Meet the six 2020 early-stage companies selected to each receive a $25,000 grant, participation in a 10-week lean startup program, coaching from scalable startup CEOs, industry mentorship, and strategic introductions. With the announcement of these winners, the Community Foundation of Louisville is honored to have supported 84 companies with $3.5 million in Vogt Award grants throughout the program's 20-year history. You don't want to miss this celebration, register here.
Eli Lilly antibody drug could reduce COVID-19 hospitalizations
Indy's Eli Lilly & Co says it's seeing a reduced rate of hospitalization in recently diagnosed COVID-19 patients who participated in a trial that tested an antibody-based drug. Lilly, which is manufacturing the drug, could have 100,000 doses ready by the end of the year, according to Lilly chief scientific officer Daniel Skovronsky.
The interim test results haven't been published in a peer-reviewed journal, but the drug—a "monoclonal antibody" created from copies of an antibody produced from a COVID-19 survivor—shows promise. Of the 450 trial participants so far, only 1.7% of those who got the drug ended up in the hospital, while those who received a placebo had a 6% rate of hospitalization.
The study will enroll 800 patients across all ages and risk categories in the US and has moved forward "with unusual speed." Lilly plans to seek emergency use authorization from the FDA.
Device may ease medical problems caused by ventilators
Mechanical ventilation has been in the news a lot lately as it has been used increasingly in coronavirus treatment. The main problem with ventilation is that the longer a patient is on a ventilator, the more problems can be introduced, including a weakening of the breathing muscles and cardiac complications.
Liberate Medical, a medical device company located in Crestwood, KY, has developed a product that shows promise in shortening the time spent on a ventilator. Its VentFree stimulator applies noninvasive electrical stimulation to the abdominal muscles during exhalation to prevent abdominal muscle atrophy and reduce ventilation duration in mechanically ventilated patients.
Liberate Medical performed a double-blind pilot study of the VentFree stimulator with a group of 20 participants. The result of the study was that the ICU length of stay and ventilation duration appeared to be shorter compared to the control group.
Share stories, offer suggestions, or comment!