Navigating the Recovery: Innovation that's solving the COVID-19 nightmare
Dear reader, we realize you won't find any shortage of news about the coronavirus. Like most in the media business, the writers at Flyover Future are sifting through updates almost constantly on the state of the virus.
It's easy to get caught up in the panic, and easier to forget that the best researchers in the world are diligently finding the solutions we need to put an end to our latest health puzzle and bring the world back to normal.
If you'd rather not receive these reports, you may manage your newsletter preferences by going here.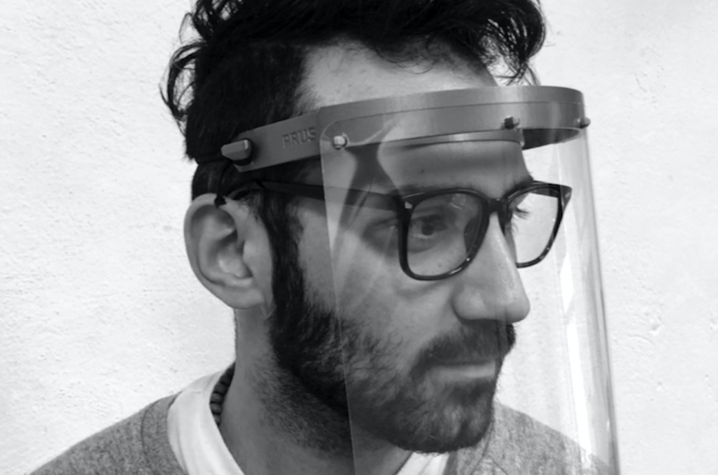 UK College of Design has been able to offer its skill set to help produce face shields. Photo courtesy University of Kentucky
Flyover country takes a leadership role in the fight against COVID-19
As the coronavirus spreads around the globe, technical innovation is thriving. Researchers, scientists, manufacturers, and workers everywhere are pitching in to help. Here's a look at some recent innovations coming out of flyover country.
Norton Healthcare enrolls 1st patient in world for COVID-19 drug trial
A COVID-19 patient at Norton Healthcare in Louisville, KY is the first in the world to participate in a randomized Phase 2 clinical study using low-dose selinexor. This oral drug, manufactured by Karyopharm Therapeutics Inc. and marketed as XPOVIO, is currently approved at higher doses by the U.S. Food and Drug Administration (FDA) as a treatment for cancer patients with relapsed or refractory multiple myeloma. The study is being led by Don A. Stevens, M.D., a hematologist/oncologist with Norton Cancer Institute.
U of K College of Design assists in PPE production
Meanwhile, down the road in Lexington, doctors at University of Kentucky HealthCare and UK's College of Design have collaborated on the design and production of face shields that can be manufactured quickly.
North Carolina companies partner on rapid coronavirus test
In North Carolina's Research Triangle, two companies have partnered on a blood test for COVID-19 antibodies that can detect the infection within 15 minutes. The test not only reveals past exposure (whether or not the person has shown symptoms), but can also be instrumental in managing future outbreaks.
Triangle drug firm lands emergency FDA approval for coronavirus test
Cellex, another Research Triangle Park firm, has gained FDA approval for its antibody test. By the way, unlike those swab tests that look for the virus itself, antibody blood tests look for the body's response to the virus, which can be instrumental in developing medicines and vaccines.
IU developing COVID-19 tests for rapid detection
Current methods of performing COVID-19 tests are effective, but it can often take days to get results. A research team at Indiana University, in collaboration with IU Health, is working on a new approach—one that's both accurate and much faster.
Leading the effort is Sarath Janga, an associate professor in bioinformatics and data science at IUPUI. He says the method they're developing should drastically reduce processing time.
Minnesota companies fighting on the coronavirus front lines
In Minneapolis, a company called Bio-Techne is making analyzers to let doctors know when a patient is having a medical emergency related to COVID-19. A neighboring company, CHF Solutions, makes a device that removes excess fluids from patients. And Fridley, MN-based Medtronic makes ventilators for patients who can't breathe on their own.
Meanwhile, Minnesota's legendary Mayo Clinic is working on a nationwide test to employ the blood plasma collected from patients who have recovered from COVID-19. If successful, the antibody therapy will bolster the immune systems of high-risk patients.
Pittsburgh scientists create breakthrough vaccine delivery method
In Pittsburgh, scientists at the University of Pittsburgh have developed a "dissolvable microneedle array" that could revolutionize the ways vaccines are delivered. The device works like a band-aid or patch with hundreds of microscopic needles that deliver the vaccine beneath the skin, where it dissolves in the body. Of critical importance: The vaccine doesn't need to be refrigerated, making distribution much easier, especially in developing countries.
Work on a system to detect COVID-19 with just a voice recording
You know how you sometimes sound super sexy when you have a cold? It turns out that our voices are bio-markers for many diseases and medical conditions, and COVID-19 is no exception. Researchers at Carnegie Mellon University are developing a system that can detect signs of the virus based on a voice recording of patients reciting the alphabet.
FDA greenlights deployment of Battelle's decontamination tech
Columbus-based R&D nonprofit Battelle received emergency FDA approval to ramp up its use of equipment to decontaminate used N95 masks for healthcare workers. The approval has cleared the way for Battelle to run at full capacity and to ship its decontamination equipment to other states. The FDA had originally authorized the company to produce just 10,000 masks a day, and only in Ohio. Governor Mike DeWine, with help from the White House, convinced the FDA to lift those restrictions.
Detroit's large-scale study of effectiveness of anti-malarial drug in COVID-19 prevention
In Detroit, the Henry Ford Health System will attempt to put to rest whether or not the now-famous drug hydroxychloroquine is effective against coronavirus. The drug, which has long been used to fight malaria, will be tested on 3,000 Detroit front-line medical workers. A third will receive a daily dose, another third will receive a weekly dose, and the remaining third will receive a placebo.
Ann Arbor's BlueWillow develops nasal antiseptic
BlueWillow Biologics has created an alcohol-free nasal antiseptic solution that kills 99.99% of germs inside your nose. The company is manufacturing a million bottles, which will be available to hospitals, businesses, and consumers.
App connects families with quarantined seniors

Image via HiLois & Youtube

The coronavirus outbreak has left many people feeling isolated and disconnected, but it's particularly hard for those in assisted-living facilities where visitation restrictions are being enforced.
Three years ago, Brett Harnett, a University of Cincinnati professor, developed an app that helps connect quarantined seniors with their loved ones. The name of the app is HiLois, and it was originally designed to help Brett's family communicate with their mother, Lois, who had been diagnosed with Alzheimer's and moved into a controlled facility.
HiLois combines digital photo frame technology with a feature-rich mobile app for the iPhone, Android smartphone, or tablet, which allows family and friends to easily send photo messages to a loved one.
The app is free to download on both the Google Play and App stores.
AAON is building HVAC units for temporary hospitals

Tulsa-based AAON, a manufacturer of heating and cooling equipment, recently announced that it has shipped forty-four 50-ton HVAC units to Stony Brook, NY, where a temporary hospital is being built. The facility is intended to treat non-COVID-19 patients. After the order for the equipment was placed, AAON went into 24-hour production. The company currently has 1,900 workers, and it's now looking to hire 100 more.
AAON is also producing 1,800 tons of equipment for a second temporary hospital, this one at SUNY Old Westbury, in Old Westbury, NY. Another order has been placed by the state for a third facility.
Please click the button below to share stories and offer suggestions or comments