New antibody test | Studying convalescent plasma | A promising development at WashU
Flyover Country fights the pandemic
A special report from:
Madison biotech company launching a COVID-19 antibody test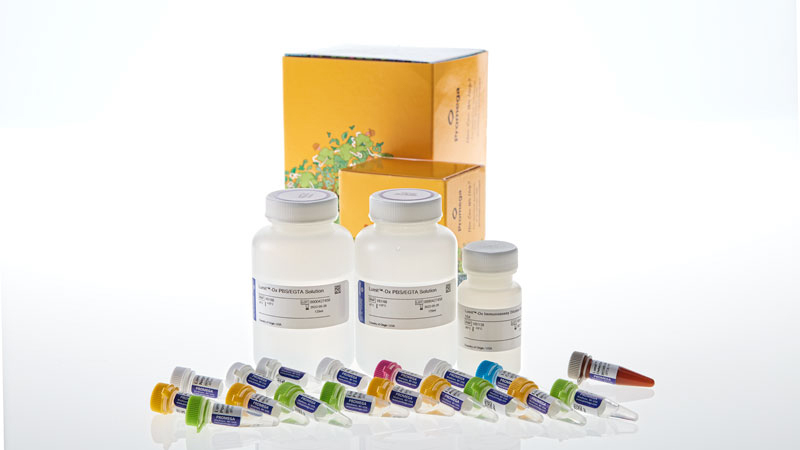 Photo courtesy Promega
Promega has announced the release of its COVID-19 serological antibody test, Lumit Dx. The in vitro diagnostic test relies on the company's bioluminescence technology, which can indicate the presence of coronavirus antibodies in patients' serum or plasma.
The test is performed on PCR (polymerase chain reaction) confirmed COVID-19 patients who are 20-plus days past the onset of symptoms. The company says that the test offers "a quick and simple workflow" that provides reliable results in under an hour and is scalable for "high-throughput needs."
Promega has submitted an emergency use authorization (EUA) with the US Food and Drug Administration.
Norton Healthcare to study convalescent plasma for COVID treatment
Norton Healthcare has launched a study to evaluate the effectiveness of convalescent plasma in the fight against COVID-19. Convalescent plasma is not a miracle cure for the virus but may be effective in keeping infected patients from becoming critically ill. The plasma comes from blood donated by recovered patients. It contains immune cells and antibodies, which the body uses to fight infections. The Louisville healthcare giant is among the first in the nation to conduct such a study.
The clinical trial will study hospitalized patients with complicating factors like cancer, cardiovascular disease, lung problems and high blood pressure. Researchers will study plasmas effectiveness in changing respiratory rate, blood oxygen saturation, and antibody levels.
"This is exciting because we're trying to provide an early intervention to prevent progression of COVID-19," said Joseph Flynn, physician-in-chief at the Norton Cancer Institute said in a press release. "This has great implications for long-term care facilities and the many at-risk individuals who remain in a difficult position."
Mice respond well to COVID-19 intranasal vaccine at WashU
Researchers at Washington University School of Medicine in St. Louis have developed a single-dose vaccine that has proven effective in preventing COVID-19 in mice. The next step is to test the vaccine on non-human primates, followed by humans.
What sets this research apart is the method of administering the vaccine: It's deliverable by nose, which seems to produce a better immune response than an intramuscular injection—and that makes sense, since the disease gains hold via the nose and respiratory tract.
Senior author of the study, Michael S. Diamond, MD, PhD, told ZME Science, "These mice were well protected from disease. And in some of the mice, we saw evidence of sterilizing immunity, where there is no sign of infection whatsoever after the mouse is challenged with the virus."
Transportant steps up with solutions to keep school kids safer
Transportant, a tech company based in KC, says its goal is to turn every school bus into a smart bus—and that means implementing things like live video/audio, Wi-Fi, GPS, and tools for driver navigation and fleet management. It even developed a key fob that alerts parents when their child gets on and off the bus. But since the pandemic, the company has gone all-in on finding new ways to use all that tech to keep students safer and healthier.
With many schools reopening for in-person attendance, Transportant is looking at solutions that will help schools monitor social distancing on buses—even turning them into mobile classrooms where needed. And its key fob tech? That will come in handy for contact tracing.
Are COVID-sniffing dogs the testing solution we need?

Cleveland dog expert Gary Broberg thinks scent-detection dogs could be the answer to real-time testing of COVID-19. He's confident that the right dogs could be quickly trained to detect the coronavirus in a sample.
Patients' mouth swabs would be placed in test tubes and the dog would be told to sniff them, indicating a positive test by sitting down. A second dog would be used to verify the results.
According to Broberg, the dogs selected for the task would already be trained for scent detection and could be "imprinted" on the coronavirus in just a couple of days.
"The government is paying something like $250 to have a person tested with a kit. You could do this for 39 cents and a pound of dog food," Broberg said.
Share stories, offer suggestions, or comment!