New ways to stop the spread that will protect us for years to come
Flyover Country fights the pandemic
A special report from:
Dear Reader,
Today we bring you several stories that exemplify the amazing ideation coming from our Flyover universities. Each show great promise towards helping us overcome COVID-19. Beyond this pandemic, these solutions will improve our lives for years to come as most will apply to other spreadable viruses and diseases.
In the spirit of "fighting fire with fire", we'll start with a solution for an airborne cleaner that may actually destroy pathogens while they float in the air!
Purdue works on airborne disinfection technology
Public Domain
Last month, a team of Purdue researchers presented a new airborne disinfecting technique called the Photodynamic Airborne Cleaner (PAC). Unlike other approaches that pose risks to humans—PAC relies on FDA-approved food dyes that can produce singlet oxygen, a special "excited version" of normal molecular oxygen that can kill airborne pathogens.
Young Kim, associate professor of biomedical engineering, said that in a medical environment, singlet oxygen has been shown to inactivate viruses. The team is working on creating a scalable aerosol generation system for the dyes. The dye would disperse in a uniform, fog-like way to "minimize wetting and surface staining."
The researchers are working with the Purdue Research Foundation's Office of Technology Commercialization to license the technology.
Wanted: A-players who can change trajectories
ImproveCareNow is a non-profit organization established to transform care, health, and costs for kids with Crohn's disease and ulcerative colitis. Working with a learning health network model, ImproveCareNow has created a collaborative community. Now clinicians, researchers, parents, and patients are empowered to work together to bring about more reliable, proactive Crohn's disease and ulcerative colitis care for healthier children and youth.
Through collaboration, ImproveCareNow has dramatically improved outcomes for children living with these conditions. ImproveCareNow has over 120 member sites where patients have a remission rate of more than 80 percent, compared to 55 percent ten years ago.
Hive Networks is now working with ICN to refresh the technology that allows these stakeholders to collaborate. John Bostick, CEO, spent three years studying learning health networks to develop the technology to empower doctors and researchers on their quest to improve health outcomes for patients. Hive's future platform will allow for the "spread and scale" of more learning health networks like ICN to help kids and adults live better lives while dealing with these challenging diseases and conditions.
Are you an A-player that wants to change career trajectories by joining a firm where you can participate in a mission to help people get better faster? You can help transform healthcare through technology by joining Hive Networks. Find details on their open positions here.
Share this job!
Chemists use AI to synthesize anti-COVID drugs
Chemists at the University of Michigan are using AI to build synthetic recipes for known antiviral drugs. The work is part of a broader effort to make drugs like remdesivir and dexamethasone available worldwide amid supply shortages. The Michigan chemists have found recipes for eleven compounds that can make antivirals available cheaply in mass quantities.

The goal is not to find new drugs in the war against COVID-19. Instead, the scientists are trying to find ways to quickly ramp up production of drugs already on the market, as well as drugs that could be developed by other efforts, using ingredients that are cheaper and more available.
The Michigan team, led by Dr. Timothy Cernak, used AI software called Synthia to synthesize 12 existing antiviral therapies.
Exploring therapeutic treatments for COVID
Virologists in the College of Veterinary Medicine at Kansas State University, have published a study showing a possible therapeutic treatment for COVID-19.
Yunjeong Kim and Kyeong-Ok Chang had already been using NIH grants to develop antiviral drugs. Their work now extends to COVID-19 research.
Their treatment involves protease inhibitors targeting coronavirus 3CLpro (not to be confused with 3cpo). 3CLpro is a well-known therapeutic target that plays a vital role in coronavirus replication.
The 3CLpro inhibitors blocked replication of the human coronaviruses MERS-CoV and SARS-CoV-2 in cultured cells. Now the series of compounds will be investigated further as a potential therapeutic for human coronavirus infection.
K-State Innovations Partners handles commercial technology licensing for the university.
Using synthetic data to enhance research

Here's a COVID catch-22: Data generated by the pandemic could help save patients' lives but patients' privacy rights are slowing the ability to process data generated by the pandemic. And it's a massive problem.
The world is awash in data about the virus, so the sheer volume of data is a challenge on its own. Add to that the challenge of keeping healthcare data private and it is extremely difficult to provide quickly actionable insights to fight the virus.

Researchers at Washington University are tackling that problem by using synthetic data to spur research and collaboration. Synthetic data maintains the integrity of the information while also protecting the privacy of individual patients.
Using technology by MDClone, the researchers are able to use the original data sets to create non-human subject data that is statistically comparable to the original, but that contains no actual patient information.
Robotic that spreads disinfectant debuts in Grand Rapids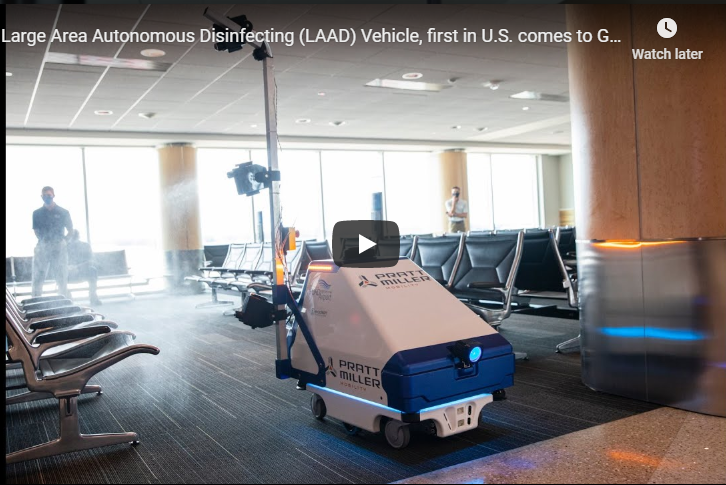 Image Source: Screenshot of Youtube Embed
Pratt Miller Mobility has demo'ed its Large Area Autonomous Disinfecting (LAAD) Vehicle at the Gerald R. Ford International Airport in Grand Rapids, MI.
The partner companies behind the development of the robot —Pratt, Michigan Economic Development Corporation, and PlanetM—say it is the "first of its kind."
The robot is connected, electric, and autonomous and dispenses FDA-approved disinfecting materials through a multi-head electrostatic sprayer array. The technology allows the spray to adhere to surfaces for maximum protection. The coverage happens through the use of sensors and data analysis.
The chief mobility officer at Michigan's Office of Future Mobility and Electrification told Robotics & Automation News:
"Pratt Miller's ability to pivot their product development capabilities in support of innovative solutions that fight the virus showcases the company's expertise and the culture of innovation rooted here in Michigan."
Share stories, offer suggestions, or comment!